China has begun issuing a digital currency from by its central bank, a move that will give that country's government new ways to monitor its economy and people. The digital yuan will be aimed at international uses and not linked to the global financial system. At the People's Bank of China, director of the Digital Currency Research Institute Mu Changchun noted that, "in order to protect our currency sovereignty and legal currency status, we have to plan ahead." China is the first to issue a national digital currency.
The Wall Street Journal reports that, "an authoritarian state and U.S. rival has taken the lead to introduce a national digital currency … propelling what was once a wonky topic for cryptocurrency theorists into a point of anxiety in Washington."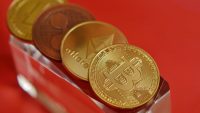 Treasury secretary Janet Yellen and Federal Reserve chairman Jerome Powell said the issue is being studied "including whether a digital dollar makes sense someday." According to the Bank for International Settlements, the dollar is used in 88 percent of international foreign-exchange trades compared to 4 percent for the yuan.
Although a digital yuan wouldn't make it a rival in bank-to-bank wire transfers, "even limited international usage could soften the bite of U.S. sanctions." At the Atlantic Council, GeoEconomics Center director Josh Lipsky noted that, "anything that threatens the dollar is a national-security issue."
"This threatens the dollar over the long term," he said. In China, 100,000+ people downloaded a mobile phone app allowing them "to spend small government handouts of digital cash with merchants, including Chinese outlets of Starbucks and McDonald's." People can also pay their monthly dues to the Chinese Communist Party with the digital yuan.
China has "indicated the digital yuan will circulate alongside bills and coins for some time … [but] bankers and other analysts say Beijing aims to digitize all of its money eventually." The money is programmable and trackable, making it another surveillance tool. Renmin University finance professor Song Ke reported that the measure of cash in circulation rose 10 percent in 2020, indicating popular concern.
Control over the value of the digital yuan vis-à-vis paper bills "means it won't make sense for investors and traders to speculate in the digital yuan as some do with cryptocurrencies." China has yet to publish final legislation for the program and, "the central bank says it may initially impose limits on how much digital yuan individuals can keep on their person, as a way to control how it circulates and provide users a dose of security and privacy."
At Stanford University's Hoover Institution, Kevin Warsh noted the urgency for a U.S. response. "If we wait five or 10 years, we may well end up with some very bad policy choices," he said. CBDC Tracker said that 60+ companies are "at some stage of studying or developing a digital currency."
In an in-depth editorial on digital currencies, Bloomberg points out that China's new digital yuan "not only defends the CCP [Chinese Communist Party] against the twin threats of crypto and Big Tech, while ensuring that all Chinese citizens' transactions are under surveillance; it also includes an offensive capability to challenge the U.S. dollar's dominance in cross-border payments."
Topics:
Atlantic Council
,
Bank for International Settlements
,
CBDC Tracker
,
China
,
Chinese Communist Party
,
Cryptocurrencies
,
Digital Currencies
,
Digital Yuan
,
Janet Yellen
,
Jerome Powell
,
Josh Lipsky
,
Kevin Warsh
,
McDonald's
,
Mu Changchun
,
National Security
,
People's Bank of China
,
Renmin University
,
Song Ke
,
Stanford University
,
Starbucks
,
Surveillance
,
Yuan