HTC plans to release a $1,099 Vive XR Elite headset by the end of February, heralding a year of competitive, price-sensitive virtual reality gear targeting consumers along with the Meta Platforms $400 Quest 2. Crowdfunded firm Goovis and its $800 VR headset made it onto the list of CES 2023's Crowdfunding Island success stories, as compiled by Kickstarter ad firm Jellop. The Vive XR Elite offers AR capability in addition to VR in a form factor that approaches something like glasses, as opposed to the usual bulky headwear. An allowance for AR apps opens the door to practical applications in everyday life in addition to entertainment applications in the metaverse.
"Years after unofficially exiting the consumer VR space in favor of enterprise products, HTC has returned with its first standalone headset for consumers," Engadget reports, detailing the Vive XR Elite, which offers "VR and passthrough mixed reality (MR)," is pricier than the Meta Quest 2 but more affordable than the Meta Quest Pro (typically $1,500, but advertised as low as $1,300 online).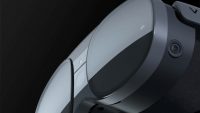 "This Vive headset looks, more than ever, like it's a stepping stone to future AR glasses," notes CNET of the AR/VR mixed reality shuffle. "We see where mixed reality is going to create a whole new suite of use cases," HTC Vive GM Dan O'Brien told CNET at CES 2023, adding, "we know the virtual reality use cases are great. The AR side is amazing, too."
O'Brien acknowledged to CNET an aborted 2015 attempt at AR, outlining as next steps "you need a 5G network, a really robust one to make AR go to scale — you need a cloud infrastructure to deliver to those types of wearables."
Similar to the Meta Quest Pro, Quest 2 and Vive's own enterprise targeted Focus 3, the Vive XR Elite relies on Qualcomm's Snapdragon XR2 chip, but "adds a higher-resolution 110-degree field of view, LCD displays with 2K resolution per eye that can run at 90Hz" and "a boosted 12GB of RAM along with 128GB of storage," reports CNET.
HTC's latest is "mostly standalone" in that it "can connect to PCs to run SteamVR or HTC's VivePort software, or connect with Android phones," CNET writes, noting that "its potential as a bridge to AR experiences seems like the most impressive feature."
At 340 grams, the Vive XR Elite is less than 50 percent as heavy as the Quest Pro. "It gets even smaller by unclipping the back battery strap and adding glasses arms that can turn the headset into a modified pair of VR glasses, which could just plug into an external USB-C charger or battery for power," explains CNET, adding that "the rear hot-swappable battery gives about two hours of life."
Meanwhile, Goovis — with connectivity to "a phone, laptop, computer, set-up box, cast, drone, PlayStation, Nintendo Switch, and more" via HDMI or type-C cable, according to the firm — previewed its upcoming G3 Max at CES 2023. Goovis promises "an 800-inch screen anytime and anywhere," thanks to "twin customized OLED displays" for an "immersive cinematic experience just like sitting in the theater."
Jellop released a roundup of crowdfunded technologies as part of the CES 2023 Eureka Park.
Topics:
5G
,
Android
,
AR Headset
,
CES 2023
,
Cloud
,
Crowdfunding
,
Dan O'Brien
,
Enterprise
,
Eureka Park
,
Glasses
,
Goovis
,
Goovis G3 Max
,
HTC
,
Jellop
,
Kickstarter
,
Meta Platforms
,
Meta Quest 2
,
Meta Quest Pro
,
Metaverse
,
Mixed Reality
,
Qualcomm
,
Snapdragon XR2
,
SteamVR
,
Virtual Reality
,
Vive Focus 3
,
Vive XR Elite
,
Viveport
,
VR Headset