When your smart home takes stock of who's there before turning the heat on to their favored temperature, that's anticipatory technology. CNET editor-at-large Brian Cooley and CBS Interactive Tech Sites senior vice president, content strategy Lindsey Turrentine led a CES discussion on how data including location, human behavior, facial recognition and object recognition can help smart homes and smart devices anticipate human needs. "Some things will get better," said Cooley. "And others might be unnerving."
Electronic Frontier Foundation executive director Cindy Cohn was there to temper the enthusiasm. "I want to make sure that when you engage with these technologies that they serve you, the consumer, and aren't two-faced, serving others" she said. Affectiva co-founder/chief executive Rana el Kaliouby stated her company builds technologies that understand emotions via facial expressions and vocalizations.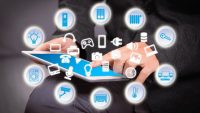 Loup Ventures co-founder/managing partner Doug Clinton invests in anticipatory future, particularly the brain-computer interface. "BCI is the natural progression [of computer interfaces]," he said. "The computer will interpret your thoughts without physical interaction."
Google Nest senior director, product management, smart home ecosystem Michele Turner described how the collection of data from connected devices can create "whole home solutions." "We see the convergence of smart devices and services and a home with lots of sensors to drive a predictive future," she said. "Can Google Maps, when I'm on my commute, turn on the heat and start the oven?"
EFF's Cohn put a damper on the dreams. "There is a lot of sunny talk going on here and not enough thinking about how this can go wrong," she said. "Look at Amazon Ring, which has been taken over by hackers to harass a little girl in her bedroom. This will be misused and it won't always work well. We have to think much more defensively."
Kaliouby reported that her company uses "machine learning, computer vision, and deep learning to track human emotions." "But if our dataset is composed of older white guys and we then deploy it to 87 countries it won't work there," she said. "We mitigate bias beginning by collecting it from different age groups, genders, racial groups. Diversity of data is important. It has to be human-centric." Her company's first use case was helping kids on the autism spectrum to understand non-verbal communications.
"We're all waiting for the things that will change society for the better," said Turner. "Our products, such as the smoke detector, have saved many lives. Every day we deal with privacy issues, and there's a trade-off. At Google, we hold very sensitive data about what's inside your home, and it's on us to protect it. As we bring sensor data together to create the anticipatory home, we have to figure out the intelligence layer and how it stays private and protected."
Clinton said that foundational technologies present known issues. "We want people who mitigate those," he said. "But they also present unknown issues. You may understand individual components but not about how it will react in the real world. It's important to have founders committed to ethics." Kaliouby responded that, "it's important that this is recognized by potential funders."
Topics:
Affectiva
,
Amazon Ring
,
Anticipatory Technology
,
Bias
,
Brain-Computer Interface
,
Brian Cooley
,
CBS Interactive
,
CES 2020
,
Cindy Cohn
,
CNET
,
Connected Device
,
CTA
,
Doug Clinton
,
EFF
,
Facial Recognition
,
Google Maps
,
Google Nest
,
Lindsey Turrentine
,
Loup Ventures
,
Michele Turner
,
Object Recognition
,
Privacy
,
Rana el Kaliouby
,
Smart Device
,
Smart Home