Congressional candidate Darrell Issa opened a CES session on the global race for AI leadership by warning that this is an "existential threat to employment and national security." "On the commercial side, whoever owns AI will own the industrial revolution," he said. "If you're leading AI, it's about how many jobs you'll gain. Whoever leads in AI will also lead in weapons systems that will matter for as long as this planet survives. This isn't science fiction and it isn't the future — it's now."
CTA vice president of technology policy Doug Johnson started off by asking what AI leadership means. "You look at where the top companies are leading innovation and universities coming up with cutting edge ideas," said Dr. Lynne Parker, White House Office of Science and Technology Policy deputy chief technology officer. "We believe the U.S. is leading based on those metrics. But it's not a zero sum game. Everyone can gain from it."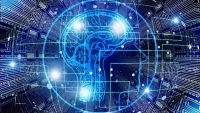 DC-based Internet Association president/chief executive Michael Beckerman agreed that it's not a "winner take all" proposition. "The companies' standpoint comes down to innovation and transparency safeguards against bias," he said. "For government, it's making sure policies are in place." Accenture North America AI policy lead Addie Cooke agreed. " Unless you have consumer's trust, you can't scale up," she said.
Senior counsel Svetlana Matt in the Office of Congressman Jerry McNerney (D-CA 9th district) believes we need benchmarks to measure growth, and Mattia Fantinati, a member of the Italian parliament, stressed that the European approach is based on private/public partnerships, getting prepared for the change; and the creation of a legal framework with ethical principles.
Parker reported that the White House has published a memo with 10 principles. "[The principles] encourage public engagement as well as trustworthy AI and no regulatory overreach," she said. "There's also a list of principles outside of the regulatory framework." Parker encouraged attendees to read the memo when it is published on the Federal Register, when they will have 60 days to make public comments.
What is the role for the Federal government in AI? "At the beginning, the role is to not get in the way," said Parker. "But, at some point, the federal government can then offer consistency of regulations and protect people."
Cooke reported her company has found that, "AI is one of the alpha trends." "It's growing faster than cloud, because it hits so many parts of the business, not just consumer tech," she said. "There are a lot of B2B case studies. Scaling up is one of the things government wants too: delivering more services at a lower cost. We're looking into what new skills will be required in the future. There's a lot of human in the mix and we don't have the proper training."
Beckerman noted that the benefit of AI for smaller companies is also significant. "It gives them the opportunity to compete in the global marketplace," he said.
Topics:
Artificial Intelligence
,
B2B
,
CES 2020
,
Cloud
,
Congress
,
CTA
,
Darrell Issa
,
Doug Johnson
,
Federal Register
,
Federal Regulation
,
Internet
,
Internet Association
,
Jerry McNerney
,
Lynne Parker
,
Mattia Fantinati
,
Michael Beckerman
,
National Security
,
OSTP
,
Regulations
,
Security
,
Svetlana Matt
,
Washington DC