The smart city was the topic of a CES conversation moderated by Strategic Cyber Ventures chief executive Hank Thomas, whose expertise was gained in relevant military and government work. Columbus, Ohio won the U.S. Department of Transportation's first Smart City Challenge, and Smart Columbus director Jordan Davis reported that this win came with $50 million in grant funding, which was matched locally. "There is no clear definition of what a smart city is," Davis noted. "But seamless connectivity is the ideal."
Smart Columbus has identified the chief use cases it wants to solve with AI and connectivity technologies. "Transportation is a huge one and a great place to start a smart city movement because it interacts with your citizens," Davis said. "The biggest use cases are operational efficiency, managing traffic flow, and public safety investments."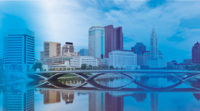 But she warned that, to succeed, the city needs interaction and education with the residents. "The residents don't realize the city is maintaining security," she pointed out.
AB InBev global director of cybersecurity Thomas Schmitt explained that his company is interested in protecting its global infrastructure, which includes data from breweries, machines and retail outlets. He described how security has changed over the years. "The whole thinking about perimeters has changed," he said. "We used to have IT in the datacenter and no one had physical access to it. Now, that perimeter is fuzzy. Identity access is the new perimeter."
Smart cities are at particular risk, he added. "It's a big attack surface," he said. "Communication protocols are standard, and security is often an afterthought. How do we update those systems to protect the protocols and how do you monitor when something goes wrong?" As a 21-year military veteran, he added that, "government moves slowly and intentionally, but it's not ideal for integrating new security concerns."
That's where a company like BlackBerry fits in, said that company's vice president, advanced technology Sarah Tatsis. BlackBerry's AI-based security products are used by all seven of the G7 countries, key banks and financial institutions around the world, and are embedded in millions of cars, medical devices and hydroelectric plants.
"Not every company should need to be a cybersecurity expert," she said. "Let a company like ours scale and service it so your company can focus on your differentiator. We're building a whole platform that embeds security, fixes vulnerabilities right away and predicts people hacking into your systems."
She added that smart cities in particular offer many positive opportunities — but also raise the question of how to leverage technology safely. "In 2019, there was an estimated $600 billion in cyber criminal activity, and that's growing," she said. "That's financial loss. But with a smart city, its systems can be hacked to steal money or operate a connected car. This is one of the key market challenges over time — that, and reducing complexity."
Topics:
AB InBev
,
Artificial Intelligence
,
BlackBerry
,
CES 2020
,
CTA
,
Cyber Crime
,
Cybersecurity
,
Department of Transportation
,
G7
,
Hacker
,
Hank Thomas
,
Jordan Davis
,
Predictive Analytics
,
Sarah Tatsis
,
Security
,
Smart Cities
,
Smart City Challenge
,
Smart Columbus
,
Strategic Cyber Ventures
,
Thomas Schmitt