Move over Sub-Zero, there's a new status icebox in town! Samsung is expanding beyond its comfort zone of computers, tablets, TVs and phones to include refrigerators, ovens and washing machines, all tapping touchscreens and smart technology. We reported earlier on its Ultra HDTV debuts; the company also made announcements during its press event regarding smartphones, mobile computing and cameras.
The Korean electronics giant (it produces a fifth of that nation's exports) kicked off CES Monday with an eye-popping gadget display that emphasized a digital "lifestyle." The most surprising aspect of the presentation was a sleek, brushed aluminum food cooler whose side-by-side compartments could switch from freezer to fridge to suit the occasion.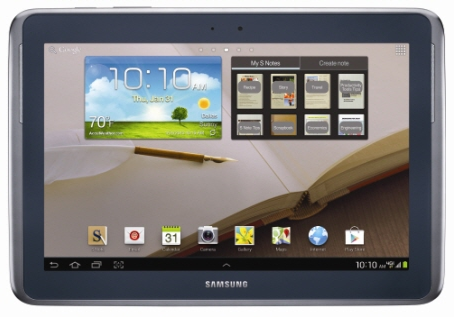 The company that recently overtook HTC to become the No. 1 smartphone provider in the U.S. also had some mobile news. In a highly anticipated move, Samsung announced that the Galaxy Note 10.1 will be available on the Verizon Wireless 4G LTE Mobile Broadband network in the next few weeks. Emphasizing business enterprise and a "bring your own device (BYOD) to work" trend it says will "become the norm by 2014," Samsung also pushed its S Pen for annotating and the Polaris suite of office software.
Are business users going to be so quick to abandon their beloved Microsoft products? Samsung is hedging its bets by disclosing its first Windows Phone 8, the Samsung ATIV Odyssey, will be available in the coming weeks at Verizon Wireless stores. With 8GB of onboard storage and support for up to 64GB microSD, and a dual-core processor running over LTE, the Odyssey will be more than able to handle the cloud-based MS Office 365 or the MS Office for mobile that Microsoft is expected to release for Android, iOS and Windows Phone 8 in early 2013. A built-in photo editor, "mini-diary" capable of storing notes and pictures and the ability to share automatically to social media are nifty touches.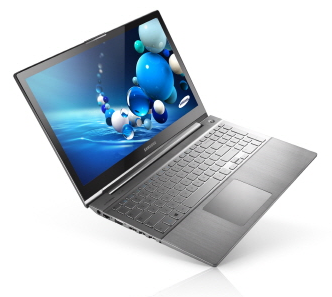 The business push includes two new portable computer entries: the Series 7 Chronos, billed as an enterprise-ready mobile unit that has 150 percent faster online browsing speed, a 10-point touchscreen (in addition to keyboard), 1TB of memory and a quad-core processor. Also, the Series 7 Ultra, an ultrabook geared toward multimedia, with full 1920 x 1080 HD and JBL-enhanced speakers.
Samsung also unveiled new additions to its camera line, including the 2D/3D NX, billed as the first one-lens 3D system capable of capturing both still images and full HD movies in perfect 3D quality. The imagery will display as 3D on 3D TVs.
Samsung products are on display at Central Hall, booth #12004.