The Federal Trade Commission is investigating the purchase of hundreds of small startups made by Big Tech companies Amazon, Apple, Facebook, Google and Microsoft to determine if they have become too powerful. In 2019, a record-breaking 231 artificial intelligence startups were snapped up, which in many cases ended public availability of their products. According to CB Insights, that number compares to 42 AI startups acquired in 2014. Apple has been the No. 1 buyer of these startups since 2010.
Bloomberg reports CB Insights revealed that, in 2019, there were 2,235 venture capital AI funding deals "worth a total of $26.6 billion" and 24 AI "unicorns," companies valued at $1 billion or more. After Apple, the top AI startup acquirers have been Google, Microsoft, Facebook, Intel and Amazon.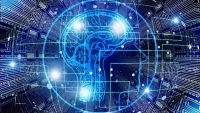 "If big tech companies buy them all up, they eliminate these future competitors, and have a chance of actually owning the winners," said machine-learning startup Primer chief executive Sean Gourley. "It's a real shame. We lost something. There may have been different approaches in this field, but now we only have what these larger companies decide."
Bloomberg notes that, "it's particularly important to have a broad, diverse community developing AI because the technology is informing more decisions and has been susceptible to bias, according to researchers." (Bloomberg Beta is a Primer.ai investor.)
The Big Tech companies also purchase startups in a competition to "amass talent," since "there's a shortage of workers with experience in deep learning and machine learning." When Google bought DNNresearch in 2013, for example, the company also got "deep-learning godfather Geoffrey Hinton." Likewise, in 2014, when it bought London-based DeepMind, it also brought its chief, Demis Hassabis on board.
"It's the most important technology we will see in our lifetime," said Algorithmia chief executive Diego Oppenheimer. "When you look at it that way, if it is concentrated on the few, it's going to be really hard to compete with those few."
But at Montreal-based deep learning research lab Mila, partnership director Frederic Laurin believes there is more to these acquisitions than "talent hoarding." "The other potential explanation is they see those firms as competitors," he said. From the startup's point of view, "selling can be the best option when promising technology is failing to become a real business … [and] joining a larger company can provide a bigger audience for a startup's ideas, along with more resources to develop products quicker."
Big companies like Facebook and Google also "have massive data sets that are crucial for training AI models." The cost of computing power also figures into the startup's calculations; "they often pay their rivals, Amazon, Microsoft and Google, which are the dominant cloud providers." This is pricing smaller firms out of the space, said Laurin, who noted that his 450-researcher lab, which gets support from several universities, has trouble keeping up.
In 2015, Elon Musk, Sam Altman and other technologists founded the non-profit OpenAI, pledging $1 billion "because they were concerned about Big Tech companies dominating such an important technology." Now it's opened a for-profit arm "and taken a $1 billion investment from Microsoft partially to fund the intensive computing needs its work requires."
Topics:
Algorithmia
,
Amazon
,
Apple
,
Artificial Intelligence
,
Big Tech
,
CB Insights
,
Cloud
,
Deep Learning
,
DeepMind
,
Demis Hassabis
,
Diego Oppenheimer
,
DNNresearch
,
Elon Musk
,
Facebook
,
Frederic Laurin
,
FTC
,
Geoffrey Hinton
,
Google
,
Intel
,
Machine Learning
,
Microsoft
,
Mila
,
OpenAI
,
Primer
,
Sam Altman
,
Sean Gourley