President-elect Joe Biden and top Democratic allies in Congress, including James Clyburn (D-South Carolina), are focused on significantly increasing federal spending on broadband to improve Internet access and affordability, especially in rural areas. The effort is more urgent as the pandemic continues, and the first step towards this goal is part of the new coronavirus stimulus package. Biden already endorsed the relief bill, passed by the House, that includes $4 billion for Internet access to low-income Americans.
The Washington Post reports that, "many Democrats say they are bullish about their prospects, believing they can shepherd a series of record-breaking investments at a time when the resurgent coronavirus is forcing Americans to work and learn from home again." Biden has also "reaffirmed his commitment to universal broadband … as part of a broader preview of his economic-recovery agenda."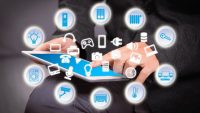 Clyburn said that he expects Biden to "move aggressively on the issue within his first 100 days in office … [despite] some opposition from Republicans" regarding increased spending. "Broadband in this century must be treated as electricity was in the 20th century," he added.
The digital divide in the U.S. has persisted. A study commissioned by the Alliance for Excellent Education, the National Urban League and other advocacy groups revealed that, "more than 8 million households, containing nearly 17 million children, may lack access to high-speed broadband … [and] more than 7 million children also do not appear to have a desktop, laptop or tablet computer."
Microsoft president Brad Smith pointed out that the need for broadband access during the pandemic is more acute than ever. "If there is a silver lining in 2020, it is that all of this has become clear to people," he said. Some help has come from the Federal Communications Commission that "made it easier for schools to provide tools, such as mobile hotspots."
AT&T, Comcast and other carriers created "programs to help people who fall behind on their bills, part of a connectivity pledge they signed with the FCC," but that pledge expired over the summer.
Last week, "60 groups representing educators, librarians, school counselors and students called anew on Democratic and Republican leaders in Congress to dispatch $12 billion in emergency funding just for the FCC's primary education program, called E-Rate," as the "quickest, most efficient … [way to] help ensure K-12 students have Internet access from homes and appropriate connected devices."
Among those in the group were the American Federation of Teachers, the National Education Association and the American Library Association. Also last week, Biden met with Microsoft chief executive Satya Nadella, "who encouraged the president-elect to make Internet access a national priority." After their meeting, Biden reiterated that priority should be given to "high-speed broadband for every American household" as part of "future economic recovery efforts."