President Joe Biden signed an executive order with 72 proposals and actions for a "whole-of-government effort to promote competition in the American economy." Among them, President Biden encourages the FCC to restore net neutrality rules undone by former President Donald Trump, to "consider limiting early termination fees and prevent Internet service providers from making deals with landlords that limit tenant choices," and to revive the President Barack Obama era Broadband Nutrition Label and its better price transparency.
Engadget reports that the order also examines "dominant tech firms" and how they are "undermining competition and reducing innovation," with a special emphasis on "the acquisition of nascent competitors, serial mergers, the accumulation of data, competition by 'free' products, and the effect on user privacy."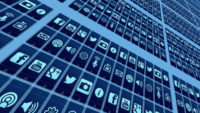 It also asks the Federal Trade Commission to "establish rules on surveillance and the accumulation of data … [and ban] unfair methods of competition on Internet marketplaces [as well as] anticompetitive restrictions on using independent repair shops or doing DIY repairs of your own devices and equipment."
In banking and finance, the order asks for "more robust scrutiny of mergers and encourages the Consumer Financial Protection Bureau (CFPB) to "issue rules allowing customers to download their banking data and take it with them."
"Price transparency, consumer rights, increased scrutiny of mergers and prevention of excessive fees" are also major considerations in industry sectors from agriculture to transportation to healthcare, the latter of which proposes "allowing for hearing aids to be sold over the counter … [and] preventing surprise hospital billing."
CNN reports that reinstating net neutrality rules for broadband companies "would likely provoke yet another court fight on the matter." By asking the FTC to focus on data collection, the order also scrutinizes the Silicon Valley business model. It adds that, "Biden will additionally call on federal regulators to create rules to cut down on non-compete agreements and ban unnecessary occupational licensing requirements, which the White House says impedes economic mobility."
The order also encourages "the FTC and the Department of Justice to strengthen antitrust guidance to prevent employers from collaborating to suppress wages or reduce benefits by sharing wage and benefit information with one another."
Continuing a Trump administration push to allow states to import prescription drugs from Canada, Biden's order "directs the Food and Drug Administration to work with states to safely import drugs." Canada, however, "has opposed the idea, and experts question whether the country has enough of a supply to make a significant dent in U.S. drug prices."
The order also "directs the Department of Health and Human Services to issue a plan within 45 days to combat high prescription drug prices and price gouging."
The White House fact sheet for the executive order can be found here.
Related:
President Biden's Executive Order Opens New Front in Battle with Big Tech, The Wall Street Journal, 7/10/21
Biden's Plan to Make Stuff Cheaper, Vox, 7/9/21
President Joe Biden's Latest Executive Order Is a Huge Win for Right to Repair, The Verge, 7/9/21