When president-elect Joe Biden takes office, one challenge he will face is China's aim to dominate technology. President Trump's efforts to limit China's abilities have only partially succeeded and, in fact, may have even accelerated the nation's development in AI, 5G, biotechnology and chipmaking. China is already ahead of the United States in 5G. Experts say the U.S. should more forcefully confront China on issues including market access, forced technology transfers and human rights.
Wired reports that, at University of California San Diego's 21st Century China Center, chair Susan Shirk pointed out that, "the entirety of our strategy can't be about simply cutting China off, in part because China will develop other alternatives."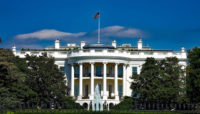 She added that the U.S. needs "a more nuanced understanding of what it's trying to achieve with its China policy," such as a "clear strategy for advancing its own 5G industry." She also pointed out that, "the U.S. officials dealing with China increasingly need a deep understanding of technology."
According to Center for Strategic and International Studies Freeman chair in China Studies Jude Blanchette, the fact that the Chinese Communist Party released its latest Five Year Plan just before the U.S. presidential election "shows that President Xi Jinping's plans are independent of who occupies the White House."
"Most of what we do is about countering China, but most of what China does, it's not about countering the U.S.," he said. "It's about China pursuing its own strategic objectives over the longer term."
The Trump administration's moves against China have often backfired. Preventing Chinese companies from acquiring chips built with U.S. technology led China to invest $200+ billion in its own chip industry, and its Made in China 2025 plan "calls for 70 percent of chips to be produced domestically by that year."
Center for China and Globalization president Huiyao Wang said that, "the Chinese government will be forced to focus more on technology and innovation … artificial intelligence, big data, the Internet, 5G — those things are powering future growth." Under a Biden administration, "a big question … is whether he will double down on current restrictions or loosen them and adopt a more subtle approach."
Experts also suggest the U.S. increase investment in R&D "has sunk to record lows in recent years."
The Wall Street Journal reports that, "China has more 5G subscribers than the U.S., not just in total but per capita … [as well as] more 5G smartphones for sale, and at lower prices, and it has more-widespread 5G coverage" with faster connections. But China is "less well-entrenched" in such applications as "self-driving cars, remote surgeries and automated factory floors," although its dominance in 5G networks "could set it up to pull ahead in this respect as well."
Jeffries analyst Edison Lee noted that, "if you measure the progress in terms of how much the network has been built, China is far ahead."
International Business Strategies chief executive Handel Jones added that, by end of 2020, China will have about 690,000 5G base stations online, compared with 50,000 in the U.S. That is why Chinese smartphone companies have a big lead when it comes to 5G enabled phones; Chinese consumers can choose from 86 5G phones whereas U.S. users only have 16, said Canalys.
Related:
Biden Is Expected to Keep Scrutiny of Tech Front and Center, The New York Times, 11/10/20
Silicon Valley Gets Another President Skeptical of Big Tech, The Wall Street Journal, 11/9/20
Topics:
5G
,
Artificial Intelligence
,
Big Data
,
Biotechnology
,
Canalys
,
Center for China and Globalization
,
China
,
Chinese Communist Party
,
Chip
,
CSIS
,
Donald Trump
,
Edison Lee
,
Handel Jones
,
Huiyao Wang
,
International Business Strategies
,
Jeffries
,
Joe Biden
,
Jude Blanchette
,
R&D
,
Susan Shirk
,
UCSD
,
Xi Jinping