The Commerce Department is taking steps to shore-up federal rules against potential security risks from foreign-owned social platforms like ByteDance's TikTok, expanding federal oversight to include apps that might be used by "foreign adversaries to steal or otherwise obtain data," a recent filing in the Federal Register stipulates. The proposed rule allows the commerce secretary to designate certain foreign apps as security risks and force software connected to the Internet to submit to third-party auditing. Such audits could include monitoring logs that show user data as well as the parsing of source code.
The concern is TikTok, and other foreign-owned apps, could leverage user data "to track federal employees and contractors, conduct corporate espionage and compile dossiers for blackmail purposes," according to The Wall Street Journal, which notes "the military has already banned its members from using [TikTok] on government-issued devices."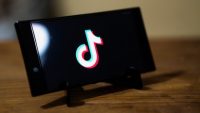 The Washington Post writes that the Biden administration feels countries including the People's Republic of China not only prevent unacceptable national security risks but do so "while advancing authoritarian controls and interests."
ByteDance has repeatedly asserted it does not share information about American users with the Beijing  government, stressing that its TikTok data is housed on U.S. servers in Virginia with backups hosted in Singapore. But "national-security officials say that TikTok would have no choice but to comply with a demand by China's Communist government for data," WSJ reports.
A statement from the Chinese Embassy in Washington warns the U.S. not to "overstretch the concept of national security and politicize economic issues," adding that "efforts should be made to provide an open, fair, just and nondiscriminatory business environment for market players from other countries to invest and operate in the U.S.," WSJ explains.
The Biden administration eight months ago abandoned a Trump administration order that sought to bar the video-sharing platform along with another Chinese-owned app, WeChat, unless ownership was transferred in part to U.S. companies. Oracle and Walmart stepped forward to fill that void.
"Executive actions implementing the Trump order were ultimately blocked by two separate federal court rulings, and the Biden administration decided not to pursue appeals" because they thought the Trump directive would be unenforceable, WSJ writes, adding that "U.S. officials say they are moving carefully to ensure that their actions withstand legal challenges."
TikTok is making some moves of its own, hiring former Panasonic executive Catherine Razzano to oversee legal compliance effective January 31, WSJ reports in a separate article.
Pending implementation of the new rules, "the Committee on Foreign Investment in the United States, which weighs the security risks of business deals, has an 'ongoing' review of TikTok," National Security Council spokeswoman Saloni Sharma told WaPo.