In 2012, Microsoft invested $300 million in Barnes & Noble's Nook division, a deal which valued the Nook business at $1.7 billion. The plan was for Microsoft to continue investing, while Barnes & Noble would create content for Microsoft products. Since the initial deal, the Nook business has lost more than half its value (revenue fell 41 percent in the most recent quarter compared to last year). Yesterday, the two companies ended the partnership, with Barnes & Noble buying out Microsoft for $120 million.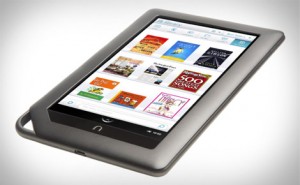 "A few months ago, the bookseller announced plans to separate its struggling Nook unit from the retail business and split into two distinct companies — one made up of its retail stores and website, and the other housing its college bookstores and Nook unit," reports The New York Times. "Barnes & Noble said on Thursday that the split could take place by the end of August 2015."
Michael Huseby, Barnes & Noble's chief exec, said that ending the partnership would help expedite the company's split, and possibly generate new investor interest in the Nook.
The spinoff could also help Barnes & Noble redefine itself or make it a more attractive acquisition opportunity for a larger company.
"Investors have a problem with Barnes & Noble at the moment, which is, are you a retailer, are you a technology company, or are you a college bookstore company?" said John Tinker of the Maxim Group. "It's a very complicated situation, and clearing up things with Microsoft begins to simplify things."
In the wake of store closings and declining revenue, the bookseller has been toying with new strategies. "This summer, in an effort to compete with Amazon's delivery service, Barnes & Noble began teaming with Google Shopping Express in a handful of cities to offer same-day delivery for books and other products," notes NYT.
"The company also teamed up with Samsung, which is manufacturing its new Nook devices. Last month, it introduced a print-on-demand service for aspiring authors, to claim a corner of the growing self-publishing business."