Ultra HD television sets will be featured at next week's 2013 International CES. And while the technology promises four times the resolution of current TVs, pricing for these higher-resolution models are expected to range from $8,700 to $25,000. Additionally, there is little available in terms of UHD content, other than upscaled versions of existing content. Will consumers be excited about the prospect of Ultra HD?
"Sony Corp. and LG Electronics, for example, have introduced 84-inch ultra high-definition sets priced at $25,000 and $20,000, respectively," reports the Wall Street Journal. "Toshiba Corp. has announced a 55-inch set in Japan for ¥750,000, or $8,700. UHD TVs are expensive because they use a new liquid-crystal-display panel that requires a greater degree of precision from component manufacturers. So far, the manufacturing efficiency for such panels is low, but production quality is expected to improve over time."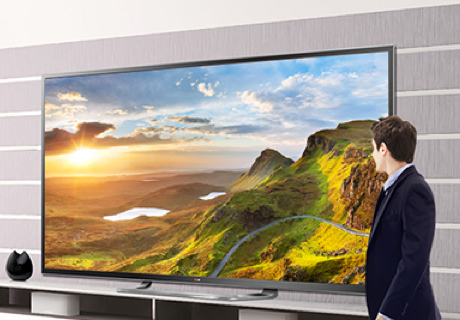 The price tags do not worry analysts who are quick to point out the initial high cost of HDTVs, smartphones and other devices. "If you're a consumer, you'll pay more for a technology that you understand," suggests Paul Gagnon of NPD DisplaySearch. "And in the case of higher resolution, that's a very easy thing to understand."
However, skepticism remains in terms of HDTV's pricing trends. Manufacturers have seen a downward spiral in HDTV pricing, despite added features such as 3D and Internet connectivity. Also, there is not much content currently available for the UHD TVs.
"Very little content has been created specifically for home viewing on ultra high-definition televisions," notes the article. "Meanwhile, early adopters will have to settle for high-definition footage that is adapted, or 'upscaled,' for the new sets — though proponents say the results look better than upscaled programming first did on HDTVs."
It is also worth noting that Hollywood is beginning to embrace 4K video cameras, production and movie projectors. If that translates to the home theater experience, the question remains regarding how quickly the UHD TV prices will become practical for consumers.
"By 2017, NPD DisplaySearch estimates UHD TVs will account for only 2 percent of all LCD TVs sold but will represent 22 percent of all televisions over 50 inches in size," reports WSJ.