In an effort to catch up to Google's classroom dominance, Apple unveiled a new 9.7-inch iPad on Tuesday "aimed at classrooms and other education tools," reports The New York Times. It has a faster processor and the ability to support its education-minded stylus, the Apple Pencil (which previously only paired with pricier iPads), as well as 200 gigabytes of storage. It'll be priced at $299 for schools and $329 for consumers. Additionally, Apple announced new classroom software and new curriculum.
The company's new Schoolwork app helps teachers "create and track assignments, and updates to its productivity apps for education," according to The New York Times. The creativity-focused curriculum is called Everyone Can Create and it helps teach skills related to music, video, photography and art.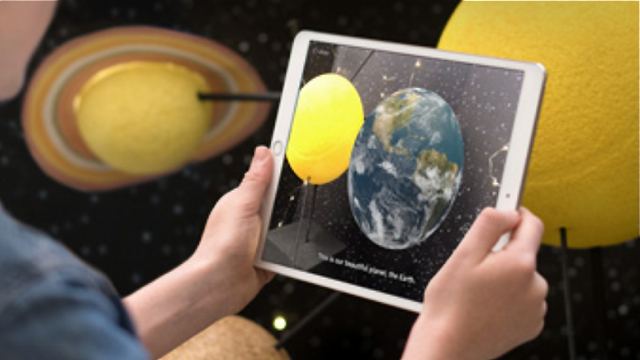 "Our place at the intersection of technology and the liberal arts makes it possible for us to create powerful products and tools that amplify learning and creativity," said Apple CEO Tim Cook.
While certainly a noble pursuit, the race to classroom dominance is also about getting students accustomed to the Apple operating system. Google and Microsoft are competing for the same thing, which they all know could help turn students into lifelong customers.
The newest to join the tech-ed race is Amazon, which just announced "a plan to give students access to resources in its Amazon Web Services cloud network," reports NYT.
"These companies know that it's very important to build mind share at a very early age," said Linn Huang, a research director at the International Data Corporation.
Google is firmly in the lead so far, having "shot past Apple with inexpensive laptops called Chromebooks. Google has also led the way in software products designed specifically for schools, with an app called Google Classroom that teachers use to take attendance, assign homework and do other tasks, among others," according to NYT.
Google Chromebooks accounted for 58 percent of the total 12.4 million tablets and laptops shipped to schools in the U.S. last year. Apple's iPads and Mac laptops accounted for just 22 percent.
Even so, Apple still "generates the most revenue from school hardware sales in the United States, partly because its devices cost more," explains the article. "Of the $5.4 billion spent on school devices last year in the United States, Apple's iPads and laptops accounted for about $2.1 billion, followed by Chromebooks at $1.95 billion and Microsoft Windows devices at $1.35 billion."
Analysts predict that Apple could be well-suited to make a move now as the classroom market matures in terms of device use and sophistication.
"We're starting to see an evolution of use cases around coding, STEM, creative arts and design, some of the areas where Apple is focused," said Ben Davis, a senior analyst in education at Futuresource Consulting. "In theory, we should start to see a trade-up in computing power in the devices going into schools to support that."
Topics:
Amazon
,
Apple
,
Apple Pencil
,
Art
,
AWS
,
Ben Davis
,
Chromebook
,
Curriculum
,
Design
,
Education
,
Everyone Can Create
,
Futuresource Consulting
,
Google
,
Google Classroom
,
IDC
,
iPad
,
Laptops
,
Linn Huang
,
Mac
,
Microsoft
,
Mobile
,
Music
,
Photography
,
Schoolwork
,
Software
,
STEM
,
Tablets
,
TechEd
,
Tim Cook
,
Video