Apple just opened a new Apple Store in a 94-year-old former landmark movie theater in downtown Los Angeles. The company completed a lavish restoration of the 1927 Tower Theatre, located below 8th and Broadway. Hundreds of Apple fans awaited the opening and many of them met chief executive Tim Cook at the door. Other celebrities at the opening included filmmaker and actor Mark Duplass, singer and producer Finneas, and actor and comedian Paul Scheer. The previous day, historic preservationists were invited to tour the building.
Variety reports that members of the historic preservation group "participated in a task force set up several years ago for give-and-take on the alterations and refreshments being made to the theater." These advocates said they are delighted with the results.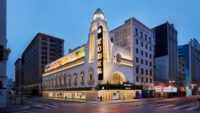 "I think Apple has really struck a balance here, in terms of it still reads as a theater," said Los Angeles Conservancy senior director of advocacy Adrian Scott Fine. "They're still telling the story that this was the Tower Theatre, but it's decidedly reinvented and re-imagined as a modern interpretation, taking some of the spaces of the theater and re-imagining those for functionality that Apple typically has with these types of operations."
"You can't walk in that space and not see all the intricacies and the craftsmanship that went into this building," he noted. "We're really pleased that Apple brought those details back."
At the Los Angeles Historic Theatre Foundation, president Tiffany Nitsche, whose group got official landmark status for the Tower Theatre in the late 1980s, said that, although her group "worked with Apple over the last few years, it never adopted an official position on the project, because there are members who maintain that a theatrical use can or should always be found for historic venues."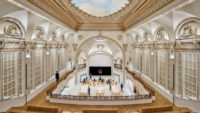 Noting that her group's membership was split on the idea of the Tower becoming Apple, she added it's clear that Apple "went into the Tower because it's the Tower." "They didn't go into it to gut it and make it something else," she said. "I think they love it for exactly what it is. It's protected for the future, with the seismic retro upgrade. It's beautifully presented and a beautiful space to shop in. And it's introducing the theater to generations that have never stepped foot inside that building."
The original Tower Theatre, designed by noted architect S. Charles Lee, was the "first theater wired for talkies in downtown L.A." Built on a 50×150-foot lot "makes it feel almost more like a palatial bowling alley than a pictures palace." It's been dark since it showed its last triple feature in 1988, except for a handful of film shoots and concerts.
When it opened, the Tower "sported a then-revolutionary Vitaphone musical short subject before the main feature." Apple, which has been silent on the project until its opening, likely spent "never-to-be-told millions to restore the theater … banking on Broadway being a major foot-traffic site again, looking to join the Ace Hotel as another relatively upscale turning point in a transformation of the boulevard that is still a work in progress."
Here's a video of Apple's opening day at the Tower Theatre. For more photos and information, visit the Apple Newsroom.
Topics:
Adrian Scott Fine
,
Apple
,
Apple Store
,
Finneas
,
Historic Preservation
,
Los Angeles
,
Los Angeles Conservancy
,
Los Angeles Historic Theatre Foundation
,
Mark Duplass
,
Paul Scheer
,
Preservation
,
Retail
,
S. Charles Lee
,
The Theatre at Ace Hotel
,
Tiffany Nitsche
,
Tim Cook
,
Tower Theatre
,
Vitaphone