Apple reportedly wants to bundle Apple Music and Apple TV+ for one flat fee, and is in early discussions with record labels to do so. Some labels are "open to the idea," but others are leery it will lead to loss of revenue. According to sources, Apple hasn't yet worked out a price formula. Currently, Apple Music costs $9.99 per month for those in the U.S., with a $4.99 level for students. Apple TV+ will cost $4.99 per month, and is free for a year to anyone who buys an iPhone, iPad, Apple TV, iPod touch or Mac.
MacRumors reports that, "it is also unclear if the bundle would extend to Apple's other subscription-based offerings like Apple News Plus, Apple Arcade, AppleCare Plus, and iCloud storage." The total cost of "Apple Music, Apple TV Plus, Apple News Plus, and Apple Arcade rounds to $30 per month, so the bundle would presumably undercut that amount to incentivize customers to subscribe to all of the services."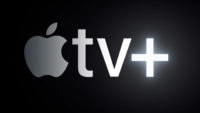 CNET reports that "at least one big label is wary" of Apple's proposed bundle, and that "some executives are worried about the possible harm of an Apple bundle undercutting the $10 monthly price that Apple Music and virtually all its direct competitors charge." Warner Music Group and Sony Music Entertainment didn't comment.
Record labels have an historic reason to be wary of Apple, which some blame for upending the music industry's business model with its 99 cent download model in the early days of music digitization. The music industry has only begun to recover with royalties from Apple Music, Spotify and other subscription streaming services.
Apple, meanwhile, has focused on earning $50 billion in services revenue before 2021, and Apple TV+ and Apple Music are crucial to that goal. Analysts (and some consumers) have anticipated that the company "would offer a mega-media bundle at a discount."
Originally reported in The Financial Times [subscription required], Apple is said to be considering several tiers for the bundled service; "in theory, Apple could offer consumers a bundle of Apple Music and Apple TV+ at a notional $13 a month, without compelling music rights holders to offer a discount." Apple owns the rights to content on its video service and "does not have to share revenues" unlike music rights, which it licenses.
According to Bernstein analyst Toni Sacconaghi, giving away a year of Apple TV Plus free to iPhone/iPad and Mac buyers was a "genius" move. "The upshot is that by the end of 2020 [or] early 2021, Apple could accumulate millions or tens of millions of paying subscribers," he wrote.
Topics:
Apple
,
Apple Arcade
,
Apple Music
,
Apple News Plus
,
Apple TV Plus
,
AppleCare
,
Bernstein
,
Bundles
,
iCloud
,
iPad
,
iPhone
,
iPod touch
,
iTunes
,
Licensing
,
Mac
,
Music
,
Music Labels
,
Record Labels
,
Sony Music Entertainment
,
Spotify
,
Streaming
,
Subscription
,
Toni Sacconaghi
,
Video
,
Warner Music Group