At the NAB 2019's Broadcast Cybersecurity course, Emblematic Group founder/chief executive Nonny de la Peña introduced deep fakes by showing pairs of images and asking the audience to call out which was fake and which was real. From paired images of Presidents Obama and Trump, among others, audience members were consistently unable to pick the correct "fake" image. University of Washington researchers created a very convincing — but fake — video of Barack Obama, she revealed, by using neural network AI and 14 hours of Obama footage.
De la Peña showed another application by which users can fake footage with a single selfie. But she pointed out that fake video has more nuanced uses. For example, as a journalist, she has frequently combined virtual replicas of actual places with real audio, such as a piece on Guantanamo prison, and another on hunger in California. The latter, shown at the Sundance Film Festival, also merged CG with real audio, and, she reported, provoked strong emotional reactions from viewers.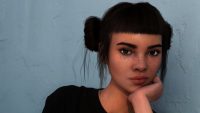 "Deep fakes are all around us," said De la Peña, who pointed to the success of Lil Miquela (above), a made-up digital Instagram model who has acquired one million followers and released music.
"Can a recreational fake lead us to the truth?" she asked, describing "Greenland Melting," a room-scale VR piece that takes participants to Greenland to see the melting ice first hand. De la Peña relayed how they clamped a 360-degree camera to the edge of a helicopter that flew over Greenland, added a CG helicopter and a NASA scientist who was shot in an L.A. studio.
"Greenland Melting demystifies the science," she said. "We use VR to tell the truth of the science."
Emblematic has now built Reach, a platform to democratize the creation and distribution of volumetric content. "It's a powerful way to tell stories," she said. "It makes an hour walk-around VR available to anyone. You can create your own volumetric story in three steps."
Still, she acknowledged the threat of deep fakes, noting that 82 percent of middle-school children can't tell if a video is an ad, sponsored content or a real news story. "Trust, then verify," she advised. "Think before you share." She also is a proponent of using blockchain to be able to track where information comes from without necessarily identifying the source. "Provenance is important," she said.