With Google's streamlined Android Wear 2.0 on two new LG watches, starting at $250, and Samsung's $300 Gear S3 smartwatch, fans of the Android operating system finally have some good smartwatch choices that even offer Google Assistant. Meanwhile, Apple is still the giant in the smartwatch market, cornering an estimated 80 percent of smartwatch sales last quarter. Although Apple didn't release specific figures, it says its smartwatch "hit record numbers" in units and revenue during the recent holiday season.
The Wall Street Journal reports that, although "the Apple Watch is still more refined," both the Samsung (below) and LG's $350 Watch Sport "amp up the competition," with built-in LTE cellular service, providing connectivity even when the user is away from the phone. "They act like standalone phones, receiving calls, texts, app alerts and more."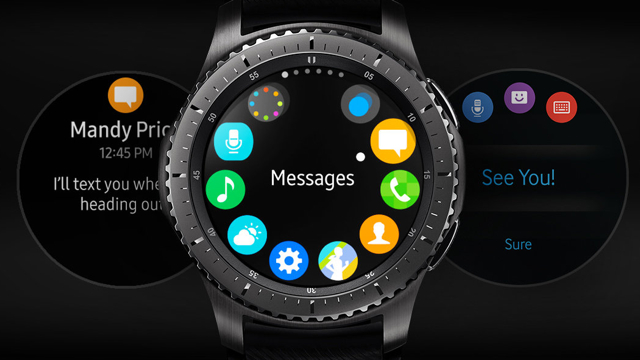 WSJ also like that the watch face has become more useful and the user can pick which information she'd like to see on its face. With the new LG watches, the user can also call up Google's voice Assistant, "which is at least as good as Apple's Siri in the automated helper game."
WSJ's only complaint with the new Android Wear 2.0 watches is that they don't measure up to Apple Watch's fitness application, by not helping with day-to-day needs or making the data "as glance-friendly as Apple's three health rings." Still, Android Wear is open, so other developers can make better workout apps as well as fill in other needs. Android Wear 2.0 will also be available for older watches from Casio, Fossil, Michael Kors, Motorola, TAG Heuer and others.
Wired says that  Android Wear 2.0 "mostly sharpens Google's vision for smartwatches," making the watch "a better tool for fitness and texting," with an interface that's easier to navigate and, of course, Google Assistant. Also of note are refined notifications, "so that instead of a huge card that takes over the screen you see a small icon pop up at the bottom."
Wired gives a thumbs-up to Google Fit, and notes that "since Android Wear now includes Google's Play Store, you can download apps from your wrist, to your wrist." Still, it adds, the new software still doesn't make a new case for why anyone should decide to buy a smartwatch.
According to 9to5Mac, Apple Watch still dominates; a report from Canalys estimates Apple Watch sales at around 6 million units and $2.6 billion in revenue. That represents 80 percent of total revenue for the smartwatch market last quarter and 50 percent of the global smartwatch market, with 11.9 million watches shipped. It also represents about 12 percent year-over-year growth for Apple Watch sales. In Q4 2016, Apple set a record by shipping more than 6 million smartwatches out of the total market of 9 million units.
Also strong in wearables sales is Fitbit, with 17 percent of the market and Samsung with 15 percent; China's Xiaomi also had a record quarter for its Mi Band wearable, more basic than a smartwatch, with 5.5 million units shipped.
Topics:
Android
,
Android Wear 2.0
,
App
,
Apple
,
Apple Watch
,
Canalys
,
Casio
,
China
,
Fitbit
,
Fitness
,
Fitness App
,
Fossil
,
Gear S3
,
Google
,
Google Assistant
,
Google Play Store
,
Health
,
LG
,
LG Watch Sport
,
LTE
,
Mi Band
,
Michael Kors
,
Motorola
,
Samsung
,
Siri
,
Smartwatch
,
TAG Heuer
,
Watch
,
Wearable
,
Xiaomi