Samsung Electronics reported an approximately 20 percent increase in operating profit for the latest quarter from a year earlier, resulting in a record high profit of about $15 billion. But that sudden lift may not last. According to industry experts, the higher numbers are due to increased demand for memory chips for use in data centers and smartphones. Samsung and other chipmakers invested to expand production, but now demand for smartphones (and other consumer electronics) is reaching a plateau.
The New York Times reports that, as the supply catches up with demand, "the question is how much, and how quickly, the prices of memory storage will fall," noting that, "Samsung's share price has already dropped about one-sixth this year." Company executives forecast that memory demand will stay "solid" next year, "as smartphone buyers seek out devices that can store more high-resolution photos and videos." Its semiconductor business makes up 40 percent of its sales, "but more than three-quarters of its operating profit."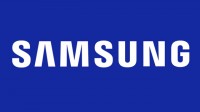 Nomura Securities analyst C.W. Chung said that, "paradoxically, signs of strength this year in the memory market have only filled Samsung's investors with more concern." "Like a roller coaster, the higher you go, the dizzier people feel," he said.
Samsung also competes with China's state-backed firms, but the U.S. Department of Commerce just sanctioned chipmaker Fujian Jinhua, which "has been accused of stealing intellectual property from an American rival, Micron." In face of a plateauing smartphone market, Samsung is wary about adding flashy features, said Chung, because of the experience with the Galaxy Note 7's tendency to catch fire.
The Wall Street Journal reports that Samsung's "mobile division profit nose-dived by a third," due to "increased promotional costs and a negative currency impact." The company was disappointed by poor sales of its Galaxy S9 smartphones but nonetheless has "moved up the release of its large-size Galaxy Note 9 to Aug. 24, weeks earlier than the prior-year model."
Samsung has also said it is "pressing forward" on features such as foldable-screen phones, aimed for release in early 2019. But signs point to the memory chip boom slowing down, with WSJ stating that, "prices for DRAM chips, which give devices multitasking speed, could fall 5 percent in the final three months of 2018 from the previous quarter." According to DRAMeXchange, "that would be the first drop in more than two years" and presages prices dropping another 15 percent to 20 percent in 2019.
Prices of NAND could also lose 25 percent to 30 percent next year, which would be bad news for Samsung, "the largest maker of DRAM and NAND chips."