A Kindle that lets you annotate text, a "no-contact" sleep tracker and a refresh on the Fire TV Cube were among the new products Amazon showcased at its annual fall hardware event this week. Updates for Echo smart speakers, an expanded Ring camera inventory and updates to its Eero Wi-Fi extender line were also in the spotlight. Home devices that enable "a silent infrastructure of ambient intelligence to do just about anything" was the through line, according to Wired, with news ranging from pet detection for Astro the robot to a feature called Alexa Shop the Look.
"Only 15 years after its Kindle launch was mocked as an example of a software company veering out of its lane," Amazon's holiday season herald is "confirmation that the e-commerce giant is now a giant hardware provider," writes Wired.
The company led with "an ominous-looking disc that sits on a night table, resembling a tiny satellite dish," Amazon's no-contact sleep tracker Halo Rise, which "uses radar to monitor your movements while you sleep, combining that data with information about your bedroom — temperature, humidity, and brightness" — to measure the quality of slumber.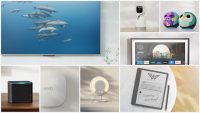 It took a decade and a half, but "Amazon is finally about to begin selling a Kindle with a stylus," reports Engadget, detailing the Kindle Scribe, with "a 10.2-inch, 300ppi front-lit display and magnetic pen," available later this year starting at $339. "The nifty thing about Scribe is that you don't need to sync or charge the stylus, and you can use it to jot down notes, annotate books and journal."
CNET flags "more AI in its products" as with Alexa Shop the Look ("Alexa, show me the one-shoulder top!") and the addition of Fire TV streaming to the $250 Echo Show 15 big-screen smart display. "The move expands Amazon's entertainment offerings on the device, granting you access to your personal library, numerous streaming apps and thousands of videos," CNET writes.
In other smart TV news, the Amazon Fire TV Cube gets a redesign that "should help [it] look less out of place in your living room," says Engadget, noting the system gets a new 2GHz octa-core processor and HDMI connectivity.
"Amazon is also expanding its Fire TV Omni line to add two premium QLED models. Available in 65- and 75-inch models that will cost $800 and $1,100 respectively, they're the first TVs from the company to include support for Dolby Vision IQ and HDR10 Plus Adaptive," Engadget adds.
Amazon is "using a software update to upgrade its current high-end smart speaker, Echo Studio, to stream music with spatial audio," an approach Amazon hardware chief Dave Limp tells Wired the company is embracing as an advantage over competitors that push replacement.
There was a lot of new information. Astro, Amazon's home robot, is getting new alerts for caregivers and video pet monitoring, and Wired says Amazon is opening Astro's operating system to developers, "beginning with students at several universities, to devise their own uses for an autonomous robot."
Topics:
Alexa Shop the Look
,
Amazon
,
Amazon Ring
,
Artificial Intelligence
,
Astro
,
Dave Limp
,
Dolby Vision IQ
,
E-Commerce
,
E-Reader
,
Echo Studio
,
Eero
,
Fire TV
,
Fire TV Cube
,
Fire TV Omni
,
Halo Rise
,
Hardware
,
HDR10
,
Holiday Season
,
Kindle
,
Kindle Scribe
,
Online Shopping
,
Open Source
,
QLED
,
Robot
,
Sleep Tracker
,
Smart Speaker
,
Stylus
,
Wi-Fi