This holiday season, families may be basking in the warmth of the new Amazon Glow, which debuted in limited release September 28. The crackling 14-inch vertical tower is a combination tablet, camera and projector and features an 8-inch LCD HD touchscreen and can project up to 19.2-inches. While the $250 introductory price tag may be considered steep for a device aimed at toddlers (it is marketed for ages 3 and up), the Amazon Glow lets kids play remotely with family and friends, and can anyone really put a price to quality time across the miles? 
"Kids can use it on a table to video chat with a preapproved relative or friend while doing an activity together — like playing a card game, solving a puzzle, reading a book or doodling — all of which is displayed on a projected image on the table," explains CNET.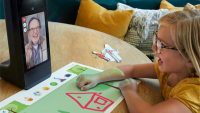 "The relative's face is the only thing showing on the Glow's 8-inch screen, making it feel like they are playing the game or reading a book right in front of the child. Amazon Glow does what Zoom and FaceTime can't," by providing "a charming way for kids and grandparents to connect across distances."
In its review, PC Magazine writes "the Glow requires a decent amount of free space, as well as a tablet and a subscription in order to use it. That said, it was a big hit with my nearly four-year-old son, who would usually rather be watching 'Paw Patrol,' but had a blast with the Glow."
Amazon.com also offers a $50 per month for five months plan as part of its product introduction, and is non-specific as to when the cost will revert to the regular retail tag of $300. The Amazon Glow is currently available only in the U.S.
Other things Amazon would like potential customers to know about the Glow:
A smartphone or tablet is required to use the Amazon Glow app, which is compatible with certain iOS, Android, and FireOS devices.
Amazon Glow is not Alexa-enabled or compatible with Echo Glow (a smart lamp for kids).
A one-year subscription to Amazon Kids+ is included in the purchase price, providing content including e-books, interactive games, visual arts activities and animated storybooks. At the end of one year, the subscription automatically renews at $2.99 per month unless cancelled. After cancellation, content will be limited "to certain experiences" like  video calling and purchased content.
Customers who already have a subscription to Amazon Kids+ will be automatically credited with one free year when their Glow is activated.