To avoid having their ads appear next to offensive online material, companies now stipulate the type of web content — or even specific websites — they want to avoid. Blacklists have always existed but are getting longer and more specific for many advertisers. That's a problem for numerous large and small news publishers, who find their outlets avoided by advertisers in favor of less controversial lifestyle publications. Colgate-Palmolive, Subway and McDonald's are among many companies blocking digital ads in hard news.
The Wall Street Journal reports that "some companies are creating keyword blacklists so detailed as to make almost all political or hard-news stories off-limits for their ads." "It is de facto news blocking," said chief data officer Megan Pagliuca, at Hearts & Science, an Omnicon-owned ad-buying firm.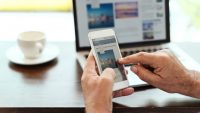 At The Guardian, commercial director Nick Hewat said that these long keyword lists will "force publishers to do lifestyle content and focus on that at the expense of investigative journalism or serious journalism." "That is a long-term consequence of this sort of buying behavior," he said. Among the words on blacklists are "shooting," "ISIS," "Russia," and "Trump." The average number of keywords the company's advertisers were blocking in the first quarter was 261, says WSJ.
The polarized political environment in the U.S. heightens the problem. Twitter account Sleeping Giants, for example, started a massive blacklisting effort when it published brands advertising on Breitbart News Network after the 2016 presidential election.
Since then, Subway blacklisted 70,000 websites, most of them hard-news outlets; Google's blacklist is made up of more than 500 words and phrases. One source reported that Marriott International "avoids buying digital ads near opinion or commentary news." On CNN, advertisers blocked the word "Trump" 636,636 times.
At one of the world's largest ad-buying firms, GroupM president of global brand safety John Montgomery said clients' extensive keyword exclusion is causing publishers to lose revenue.
Zenith, a Publicis Groupe-owned ad-buying company, estimated that "spending on newspaper print ads in the U.S. has plummeted 32 percent over the past five years." No wonder that some digital publishers equate brand safety with indirect censorship.
Vice Media is fighting back, telling advertisers that it will no longer allow them to block 25 words, among them "bisexual," "gay," "HIV," "lesbian," "Latino," "Middle Eastern," "Jewish" and "Islamic." "Bias should not be the collateral damage of our much-needed brand-safety efforts," said the company's senior vice president of client partnerships for North America Cavel Khan.
CNN and Gannett developed SAM (Sentiment Analysis Moderator) that uses machine learning to score a site's content for how readers will feel; some advertisers are now testing it.
The New York Times, WSJ, Barron's and The Washington Post are all developing proprietary tools that "ensure brand safety," while some news publishers, including CNN.com and USA Today, are "producing and promoting more ad-friendly lifestyle, technology, business and sports content." USA Today Network chief operating officer of national sales Michael Kuntz noted that "the future of the digital news space is heavily reliant on us continuing to change the perception around why news does not need to be a polarizing category."
Topics:
Advertising
,
Blacklist
,
Brand Safety
,
Breitbart News Network
,
Cavel Khan
,
CNN
,
Colgate-Palmolive
,
Gannett
,
Google
,
GroupM
,
Hearts & Science
,
John Montgomery
,
Machine Learning
,
Marriott International
,
McDonald's
,
Megan Pagliuca
,
Michael Kuntz
,
Nick Hewat
,
Omnicon Group
,
Publicis Groupe
,
Sleeping Giants
,
Subway
,
Twitter
,
Vice Media
,
Zenith