This has been a significant week for new product announcements as the e-reader war rages on. New devices, features, price points, sales reports (and a potential acquisition) have been announced from Kobo, Barnes & Noble and Amazon.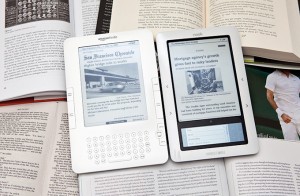 Canadian-based Kobo announced its new $130 Kobo eReader Touch Edition will ship in June. CNET expressed concern regarding the general speed of the Wi-Fi device and the new Freescale i.MX508 that powers the e-reader, but added: "That said, the Kobo Touch Edition has a compact, elegant design, with only a couple of buttons (since this is a touch-screen e-reader, there's a built-in virtual keyboard). I didn't see a Web browser and like other Kobo e-readers, the device seems very reading-centric. It's also geared to the international market, with Kobo making a push into several countries, most notably Germany, which has the fastest growing e-book market outside the U.S."
The next day, Barnes & Noble announced it will also have a new e-reader available in June. The new $139 Wi-Fi Nook claims to have the longest battery life of available e-readers (up to two months) and a growing bookstore (with over two million current titles). The Nook has reportedly been a major contributing factor in Liberty Media's interest in a potential acquisition. The Wall Street Journal reports: "Liberty executives in recent days have said Barnes & Noble's digital strategy played a key role in their decision to make a $17-a-share bid for control of the company."
Not to be outdone, a few hours following the B&N announcement Amazon unveiled its all-new Kindle 3G with Special Offers (currently available) — an ad-supported 3G and Wi-Fi device weighing only 8.7 ounces and featuring improved screen contrast with the latest E Ink Pearl technology. At $164, it costs $50 more than the non-3G ad-supported version (reported last month by ETCentric), but $25 less than the ad-free equivalent.
Can the other e-readers compete with the number of current Kindle options? That question remains to be answered — as does the speculation that e-readers may eventually be replaced by more affordable tablet PCs. One thing is undeniable, however: the Kindle continues to gain in popularity.
In an Amazon press release issued last week, Amazon.com announced it is now selling more Kindle books than print books and the $114 Kindle with Special Offers is already the best-selling member of the Kindle family of products. According to the release: "Since April 1, for every 100 print books Amazon.com has sold, it has sold 105 Kindle books. This includes sales of hardcover and paperback books by Amazon where there is no Kindle edition. Free Kindle books are excluded and if included would make the number even higher."
Related Wired post: "Amazon Brings Ads to Kindle 3G" (5/25/11)
Related Wall Street Journal article (with video): "Amazon Introduces Cheaper, 3G-Enabled E-Reader with Ads" (5/25/11)
Related CNET article (with video): "Kobo unveils Wi-Fi Touch Edition e-reader for $129.99" (5/23/11)
Related Kobo Blog post (with video): "The Rumors are True! Kobo Launches the Kobo eReader Touch Edition Today" (5/23/11)
Related Wall Street Journal article: "Liberty Says Nook Inspired B&N Bid" (5/24/11)