Following extensive public outreach, the White House has released a National Spectrum Strategy that includes a study of uses for the lower 3 GHz band and identifies 2,786 MHz of airwaves that will be studied for new uses. Near term, the strategy proposes five spectrum bands for further in-depth study. President Biden has called wireless frequencies one of "our Nation's most important national resources." The FCC collaborated on the approach, which was marshalled by the Secretary of Commerce through the National Telecommunications and Information Administration (NTIA).
U.S. wireless commercial interests have "anxiously been awaiting a Department of Defense (DoD) report related to this 350 MHz" of 3 GHz (3.1-3.45 GHz) spectrum "and whether it can be shared with the private sector," writes Fierce Wireless. "The DoD determined that sharing is feasible if certain advanced interference mitigation features and a coordination framework to facilitate spectrum sharing are put in place."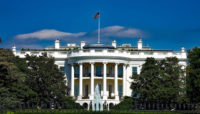 The other four areas of focus areas for continued study as identified in the National Spectrum Strategy are:
5030-5091 MHz, in which the FCC, in coordination with NTIA and the Federal Aviation Administration, is expected to take near-term action to facilitate limited deployment in this 61 megahertz of spectrum.
7125-8400 MHz, a 1,275 megahertz slice of spectrum that will be explored for wireless broadband use (on a licensed and/or unlicensed basis), though some sub-bands eventually may be studied for other uses.
18.1-18.6 GHz,a 500 megahertz area spectrum that will be studied for expanded Federal and non-Federal satellite operations, consistent with the U.S. position at the 2023 World Radiocommunication Conference (WRC-23).
37.0-37.6 GHz, which builds on previous efforts of the NTIA, DoD and FCC in 600 megahertz of spectrum to implement a co-equal, shared-use framework allowing Federal and non-Federal users to deploy operations in the band.
The NTIA "will coordinate a multi-agency effort to study 2700 MHz of spectrum in five bands with the goal of making more spectrum available for possible commercial and governmental use," writes Telecompetitor, adding that "the agencies also will study several other bands for possible longer-term use."
"While the administration was getting credit for having a plan and for including both licensed and unlicensed spectrum, some critics were disappointed the strategy did not include specifics on which spectrum would be getting that 'unprecedented and innovative access,'" Multichannel News reports, adding that "the strategy essentially reaffirms existing spectrum policies while setting out a process for, well, setting out a process."
Secretary of Commerce Gina Raimondo commented that spectrum is "a limited resource that enables the everyday and the extraordinary — from checking the weather on our phone to traveling into space."
Topics:
3 GHz
,
Aviation
,
Broadband
,
Commerce Department
,
Department of Defense
,
DoD
,
FAA
,
FCC
,
Federal Government
,
ITU
,
Joe Biden
,
License
,
NTIA
,
Policy
,
Private Sector
,
Radio Frequency
,
Regulation
,
Satellite
,
Space
,
Spectrum
,
Weather
,
White House
,
Wireless
,
WRC-23