South Dakota Governor Kristi Noem's executive order banning TikTok from state agencies has added further fuel to Washington's calls for an outright ban on the Chinese-owned short-form video platform. The South Dakota tourism department deleted its account and 60,000 followers, and the state's public broadcasting service and six public universities are planning how to move forward. Nebraska in 2020 became the first U.S. state to implement a government agency TikTok ban. Now a movement seems to be gaining momentum, with South Carolina, Arkansas and Maryland at various stages of action in dealing with the perceived national security threat.
Meanwhile, the deal that the Biden administration has been working on to determine what steps will be necessary for TikTok to get a clean bill of approval is delayed and appears will not meet its end-of-year timeline.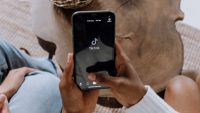 Snags include TikTok's concerns about how to share its proprietary recommendation algorithm, considered a trade secret, "and the level of trust Washington would need to place in the company" in order to overcome the security concerns, according to The Wall Street Journal.
While the state measures enacted by North Dakota and the others all stop short of preventing members of the public from using the popular app (and even state employees can continue to use it on their personal devices), Congress continues to raise the prospect of preventing TikTok from doing any U.S. business.
"Leaders from both parties have recently ratcheted up concerns about the Chinese government's potential to order TikTok to collect data on American users, and to influence public discourse by controlling what people watch on the app," The Wall Street Journal reports.
"TikTok, which is owned by Beijing-based ByteDance Ltd., has said it has never received such requests and wouldn't comply if asked," WSJ adds, noting that "former President Donald Trump threatened to ban TikTok during his administration if it wasn't brought under U.S. ownership" but that "President Biden dropped that after the action was successfully challenged in court."
The Biden administration and TikTok are now trying to negotiate mutually acceptable terms for the company to continue to operate in the U.S., where it has 94 million users, according to Statista.
Senator Marco Rubio (R-Florida) is among those who have "come out publicly in support of a countrywide ban," WSJ says, adding that Senator Mark Warner (D-Virginia) "may support a ban too, but hasn't decided."
Several legislators are threatening to hold hearings on the matter next year when Republicans control the House of Representatives. FCC commissioner Brendan Carr has also been an outspoken proponent of an outright TikTok ban.
This week, Indiana state attorney general Todd Rokita became the first to sue TikTok for what The New York Times describes as "deceiving users about China's access to their data and for exposing children to mature content."
Calling TikTok "a wolf in sheep's clothing," Rokita "is seeking penalties of up to $5,000 per violation and has asked a state Superior Court to order TikTok to stop false and misleading claims about its handling of data and to stop marketing itself as an app appropriate for young teenagers," NYT writes.
Topics:
Algorithm
,
Arkansas
,
Ban
,
Brendan Carr
,
ByteDance
,
China
,
Congress
,
Donald Trump
,
FCC
,
Indiana
,
Joe Biden
,
Kristi Noem
,
Lawsuit
,
Marco Rubio
,
Mark Warner
,
Maryland
,
National Security
,
Nebraska
,
North Dakota
,
Personal Data
,
Short-Form Video
,
Social Media
,
South Carolina
,
South Dakota
,
Teenagers
,
TikTok
,
Todd Rokita
,
Video
,
Washington