With March Madness underway, many sports fans will be using social media to read and share updates about their favorite college basketball teams. To enhance the social and second screen experience this year, Twitter has joined forces with Turner Broadcasting and startup SnappyTV to provide instant 15-second replay videos of popular game highlights through Twitter's news feed. The move will also create new opportunities for advertising revenue.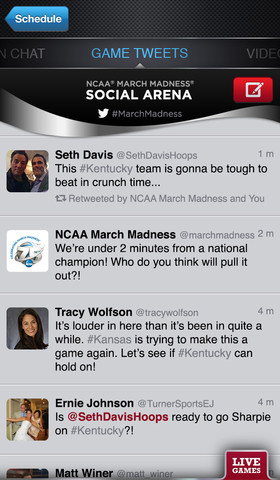 "Let's say something happens, like there's a great play, and 20 seconds later, there's a tweet from the March Madness Account with the play. And people can watch it almost instantly and retweet it," explains Mike Folgner, SnappyTV CEO. "You just get this really cool second screen experience around Twitter and the game."
The partnership between Turner, Twitter, and SnappyTV has made it possible for Twitter users to access these short playback videos on smartphones, computers and tablets with AT&T and Coke Zero as sponsors. This isn't the first year SnappyTV has presented videos during March Madness, but it will be the first time working directly with social media to share content.
"Twitter is clearly interested in making money from social TV, as it demonstrated with the Bluefin Labs acquisition, so this partnership is a window into what that concept could look like," notes GigaOM.
The number of clips per game will vary, but it is estimated that there will be at least 10 clips per match-up. Through the March Madness app, which is available to cable customers, users can also see the social feeds about each game.
"The partnership this year will allow editors at Turner TO use SnappyTV's video-editing platform to put together short, 15-second highlight videos throughout the tournament," explains the article. "Editors with Turner will use both human judgement and an algorithm from SnappyTV that tracks the most-discussed moments on social media to pick the best moments from the games, and less than a minute later, can send out an video with the highlight for people to view and (hopefully) retweet."
"The real difference with this year is now these advertisers who are buying these key TV shows, now they have the opportunity to buy the social conversation around the shows as well. And there really hasn't been that connection before," Folgner points out. "People watch TV and talk about it on Twitter. So by sending the video out, you connect the brand advertisement on television with the branded content on Twitter."
Topics:
App
,
Basketball
,
College
,
Edit
,
March Madness
,
Second Screen
,
Smart TV
,
SnappyTV
,
Social
,
Social Media
,
Sports
,
Turner
,
TV
,
Twitter
,
Video