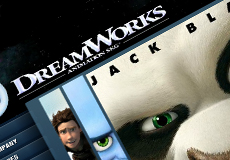 Animators at DreamWorks have to work in low resolution — "as if blind" — because rendering takes a week for 3 seconds worth of animation.
"CEO Jeffrey Katzenberg said his company's four-year partnership with Intel is developing scalable multicore processing methods and software that will change all that," reports Forbes.
Katzenberg explains the partnership is dedicating tens of millions of dollars in an effort to reengineer animation software "in a way that will halve the number of steps in the production line and ramp up animators' productivity between 50 and 70 times."
The technology will also be widely applicable in areas that use high-end rendering, including medicine, oil, aircraft design and more.
"This literally is going to revolutionize waiting," suggests Katzenberg.
Topics:
Animation
,
Animator
,
CG
,
CGI
,
DreamWorks
,
Effects
,
Intel
,
Jeffrey Katzenberg
,
Post Production
,
Production
,
Rendering