Microsoft recently released a free preview version of Windows 8.1, an update to the previously redesigned Windows 8. The preview version reveals some significant improvements and enhancements to navigation, performance, overall usability, and addresses issues from version 8. Perhaps one of the most important is the return of the "Start Button." Any current Windows 8 user can upgrade to Window 8.1, once the full version is released.
"Not only does the new OS make helpful changes to the user interface, but it also drastically improves built-in search, SkyDrive cloud syncing, and the Windows app store," notes PCMag in its hands-on review. "The included set of modern apps also get refreshes, and business and security features get bolstered."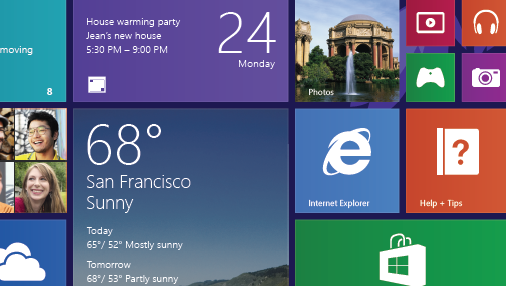 The update has simplified and improved the user interface, keyboard entry and screen layouts. It also includes more enhanced apps, such as Photo where one can edit images directly, and Internet Explorer.
"A couple of the biggest asks from traditional PC users have been granted: the return of the Start button and the ability to boot directly to the desktop, which resembles the Windows 7 interface," explains the article. "But Microsoft hasn't given up on making the new-style tile and full-screen, touch-friendly apps and Start Page more usable for all users, whether using touch screens or mouse and keyboard — critical to the OS's goal of being just as at home on tablets (even mini-tablets) as on traditional PCs."
The Windows Store has been redesigned with improved navigation and app selection. However, new apps will not be available until the full Windows 8.1 version is available.
Windows 8.1 supports 3D printing and offers NFC support. It has improved business and security features, allowing it to work better in larger network environments.
While it may not be a cure-all, the preview version is a significant improvement over Windows 8. The 8.1 Preview version is available for download from Microsoft.
Topics:
3D
,
3D Printing
,
App
,
Computer
,
Desktop
,
Microsoft
,
NFC
,
Operating System
,
PC
,
Preview
,
SkyDrive
,
Software
,
Start Button
,
Surface
,
Touch Screen
,
Touchscreen
,
Update
,
Windows
,
Windows 7
,
Windows 8
,
Windows 8.1
,
Windows Blue