As cryptocurrencies undergo explosive growth with little federal oversight, the Treasury Department is asking Congress for more power to regulate stablecoins due to their perceived danger of triggering a run on funds, according to a report by the President's Working Group on Financial Markets. Treasury is asking that those issuing stablecoins be subject to the same requirements under which banks and other traditional financial institutions operate, which would require the crypto's brokers to maintain sufficient reserves to compensate customers who want to cash out quickly.
Stablecoin is so named because it is marketed as being tied to the value of a reliable reserve asset, such as the dollar. According to the International Monetary Fund, reserve assets are "external assets that are readily available to and controlled by monetary authorities for meeting balance of payments financing needs." But stablecoins have reportedly not always lived up to that promise, which the Treasury says is a danger to customers, investors and financial systems in general.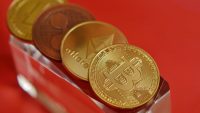 "Failure to act risks growth of payment stablecoins without adequate protection for users, the financial system, and the broader economy," the PWG report explains.
There is currently more than $130 billion in stablecoin circulating, an increase from $28 billion in January. "The cryptocurrencies are issued by a new breed of financial technology companies like Tether and Circle," according to The New York Times. "They are not banks, at least so far, and they are not simply tech companies that sell online services. They operate as both and have few rules to guide them."
"Stablecoins that are well-designed and subject to appropriate oversight have the potential to support beneficial payments options. But the absence of appropriate oversight presents risks to users and the broader system," Treasury Secretary Janet Yellen said in a statement.
While some regulatory powers exist, including the Securities and Exchange Commission's ability to police certain stablecoin issuers, the report indicates that ultimately the authority to regulate those issuing stablecoin must come from an act of Congress and managing it does not currently fall under the group's purview. Without the stability of oversight, crypto-based transactions are more prone to mistakes and even outright manipulation.
At present, federal law cannot prevent retailers and other commercial entities from issuing their own stablecoins, "potentially creating risky overlaps between commerce and banking," NYT writes. The Senate Banking Committee welcomed the report, saying it revealed the risks associated with stablecoins and would bring Congress attention to the problem.
One stablecoin issuer, Circle co-founder and CEO Jeremy Allaire, says the company supports increased oversight and welcomes new rules. "This is huge progress in the acceptance of stablecoins and provides a path for their adoption as fundamental infrastructure for financial and economic activity in the coming decade," he said.
Related:
Big Hires, Big Money and a D.C. Blitz: A Bold Plan to Dominate Crypto, The New York Times, 10/29/21
Banks Tried to Kill Crypto and Failed. Now They're Embracing It (Slowly), The New York Times, 11/1/21
Topics:
Banking
,
Bitfinex
,
Circle
,
Circle Pay
,
Congress
,
Dollar
,
Euro
,
Finance
,
Fintech
,
Government
,
IMF
,
Janet Yellen
,
Jeremy Allaire
,
P2P
,
PWG
,
SEC
,
Senate Banking Committee
,
Stablecoin
,
Tether
,
Treasury Department