Amazon has announced the fourth quarter of 2022 as the launch date for the first two prototype satellites in its Project Kuiper Internet-from-space enterprise. The retail giant's move follows SpaceX, which already has almost 2,000 Internet-beaming satellites orbiting at a cost of about $10 billion on behalf of its competing Starlink venture. Amazon says it plans to spend a like amount. In 2019, Amazon shared its goal of deploying 3,236 satellites in low Earth orbit. These prototypes will essentially field-test Kuiper's technology design before Amazon sends its flock of thousands skyward.
The FCC approved Amazon's satellite Internet plans in 2020, assigning a deadline of mid-2026 by which the company would need to have half of its 3,236 satellites launched. Amazon founder Jeff Bezos owns the Blue Origin rocket company, while SpaceX owner Elon Musk uses its own Falcon 9 launch rockets.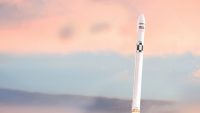 "Competition among the companies is fierce, and their plans have drawn interest from investors and analysts who foresee tens of billions of dollars in revenue once the constellations become fully operational," writes The New York Times.
Amazon has also joined forces with Verizon for Project Kuiper to help expand the company's 4G LTE and 5G coverage to remote locations worldwide, The Verge reports.
These initial prototype satellites, KuiperSat-1 and KuiperSat- 2, will be separately launched from Cape Canaveral, Florida, on rockets from startup ABL Space Systems. The Amazon prototypes will mark the first time Project Kuiper tests its Internet connection between space and the company's consumer antennas on the ground.
Amazon's previous experiment linked flying drones outfitted with satellite hardware over antennas on the ground. The company also connected ground antennas to satellites other companies had in space, producing Internet speeds capable of streaming high-definition video.
Currently, thousands of customers are testing the SpaceX service with $499 antenna kits and a monthly subscription fee of $99. Employees working on Kuiper "face pressure to keep costs down as they develop a final version of the company's consumer antenna," NYT reports. "We're hyper-focused on getting the cost down so the total cost of ownership for customers is low," said Rajeev Badyal, VP of technology for Project Kuiper.
In addition to SpaceX, the race to deliver satellite-driven high-speed Internet to consumers, governments and businesses also includes HughesNet and Viasat, and is expected to get a lot more competitive once Amazon's Project Kuiper is operational.