The aging pay phones of New York City are getting a digital makeover. Mayor Bill de Blasio's office announced a five-borough "LinkNYC" plan to give New York City residents access to free and fast Internet service. The "Link" devices, installed as replacements to the city's 6,400 coin-operated pay phones, will also provide free phone calling and a free charging station. City officials expect the digital advertisements on the Link devices to bring in at least $20 million in annual ad revenue.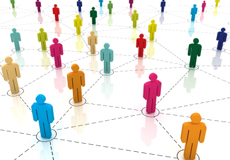 Link devices will start popping up on New York City streets next year. The city plans to install 10,000 total devices, creating the new digital hubs with advertising revenue, not taxpayer dollars. The LinkNYC plan, which was at least a year in the making, is a public-private partnership between the mayor's office and the technology consortium CityBridge, according to The Wall Street Journal.
Qualcomm will serve as the technology adviser to CityBridge.
The Link devices are much more sophisticated than an average Wi-Fi hub. They provide gigabit Wi-Fi, which is more than 100 times faster than average Wi-Fi speeds. For security purposes, the Link hub will use an encrypted network connection and disable the ability to communicate between devices, reports Business Insider.
User information will be kept private from advertisers, but the city may turn over such information to the police. The city hopes to close the digital divide with this free, city-wide Wi-Fi access.
In addition to Wi-Fi, New Yorkers will be able to use the Link installations to make free phone calls in the U.S. and even video chat other people. In emergencies, the tablet-like screens on the Link devices will display public service announcements instead of ads. Outdoor media company Titan will operate the ad system.
As for those old pay phones, three will remain in the city and the rest will be auctioned off at the auction house Christie's.
Topics:
Ad Revenue
,
Advertising
,
Auction
,
Bill de Blasio
,
Calling
,
Charging Station
,
Christie's
,
CityBridge
,
Digital Advertising
,
Digital Divide
,
Encrypted Network
,
Gigabit Internet
,
Gigabit Wi-Fi
,
Hub
,
Link
,
LinkNYC
,
New York City
,
Partnership
,
Pay Phones
,
PSA
,
Qualcomm
,
Security
,
Titan
,
Video Chat
,
Wi-Fi