According to Netflix CEO Reed Hastings, original programming is important to the streaming service, but not yet critically important. At the Morgan Stanley Technology, Media & Telecom Conference on Monday, he delicately touted the success of "House of Cards," but downplayed the short-term success the series will have on the service. It seems he wants investors focused on the licensed library as the core of the company.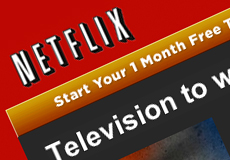 "It's not the center of the company," Hastings said. "It may be the center of the PR for a while and that's okay but I don't want you guys to think that suddenly we're the original content company." Even after saying this, he talked about the market for additional original programming.
"Over five years and 10 years we'll build some really big franchises," he continued. "It could become quite material, but as of today think of it as a confirming down payment as opposed to an inflection point where with one season of one show we've changed everything."
"Hastings echoed previous comments from Netflix execs that 'Cards' is currently the most-watched program on the streaming service, though didn't offer much in the way of specifics," reports Variety.
Hastings spoke of the potential for "House of Cards" to become a show with multiple seasons, whereas the upcoming revival of "Arrested Development" will be a one-off. Additionally, he talked about the upcoming horror series "Hemlock Grove," which will premiere on Netflix in April.
"It's completely different," he said in regards to "Hemlock Grove." "For many people in this audience, you'll be grossed out."
"I've seen in my life 30 or 40 werewolf transformations. What [executive producer] Eli Roth does in reinterpreting that and making it more incredible and grosser than ever before, it's stunning," he suggested.