In response to criticism about their violent content, major media companies are initiating a campaign to make parents more aware of the ways they can limit exposure to controversial entertainment. In a joint news release on Wednesday, representatives for the companies said they are planning to roll out a national multimedia campaign for these parents.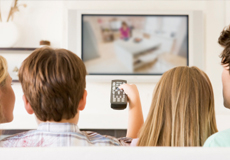 "The effort comes amid renewed scrutiny of film and television violence following the massacre at Sandy Hook Elementary School in Newtown, Connecticut, in December," reports The New York Times. "Some lawmakers and pro-gun activists have pointed fingers of blame at shows, films and video games. Even President Obama, in a speech last month proposing new gun control measures, referred to the need to rethink the way violence is often glorified in entertainment offerings."
And many in government agree with that need. Sandy Adams, a former Republican member of Congress from Florida, wrote that "the desensitizing of death, blood and gore in their everyday lives is only making the culture more violent."
The new campaign by the television and film industries and their lobbyists could be taken as a "rebuttal to that point of view," notes NYT.
In the release, representatives said they would "make a positive contribution to the national conversation on violent behavior by launching a national educational campaign through communications channels including television public service announcements, educational and informational websites, in-theater advertising, and other media."
The campaign will provide ads on TV and on the Web in upcoming months, all of which will serve to remind parents about existing TV and film ratings systems and parental controls built into most TV sets. Ads regarding the film ratings system will be show in theaters.
"The industry representatives will also promote Web sites about parental controls, including TV Boss, which includes information about how to 'block unwanted programs' and 'be the boss of what your child watches,'" according to the post.