Speaking at the D:Dive Into Media conference, Erik Huggers, corporate vice president and general manager for Intel Media, confirmed the rumors that Intel will be making moves into the set-top/TV provider business. "We have been working for around a year now to setup Intel Media — it's a new division that includes a lot of people from outside of the company," explained Huggers.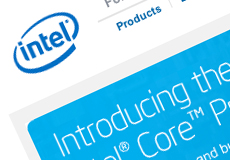 "We've hired people from Apple, Netflix, Google, BBC, etc. We're aiming to develop an Internet television platform," he added. "My opinion is that not many of those rivals have cracked it — have truly delivered."
Huggers also noted that Intel will deliver a few things for the first time. "We'll deliver a new consumer electronics product under a new brand," he said. "It's associated with Intel, but you'll have to wait to hear what exactly that is. It'll be an Intel-powered device with beautiful industrial design. Where it really gets interesting is here — we're working with the entire industry. It's an over-the-top service, delivering network channels, pay-TV channels, catch-up television, on-demand, and a host of applications."
The box and service will launch this year, he said. It won't be available in its entirety then, but close to it, meaning consumers will see live TV, on-demand, and catch-up. "We're guessing it's the app ecosystem that'll take some time to truly develop," suggests Engadget.

As far as whether the system and the industry as a whole is ready for à la carte programming, he said: "I agree that consumers want choice and convenience, but I think there is value in bundles. If bundles are bundled right, I think there's real value in that, and opportunities to create a more flexible environment where end-users have more choice than they do today. I don't believe the industry is ready for true à la carte."