House Majority Whip James Clyburn (D-South Carolina) and former House Energy and Commerce Committee chair Fred Upton (R-Michigan) introduced a bill to speed up distribution of the $16 billion the FCC earmarked to expand broadband infrastructure to rural areas. The FCC currently plans to disburse the money in an October auction, but rural areas today cannot access remote schooling or healthcare resources. Thirty-nine state attorneys general are also pressing Congress to increase broadband funding for these areas.
The Wall Street Journal reports that, according to Upton, "residents of southwest Michigan in particular have been desperate for dependable broadband during the coronavirus crisis." The bill would require the FCC to start accepting applications from broadband providers this summer, "and make final awards by the end of September in areas where there is only one company bidding."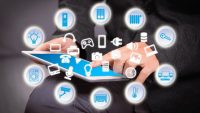 Those winning early funding "would have to offer gigabit speeds, which typically require fiber-optic cable technology, and would have to be ready to begin construction within six months and make service available within a year, according to the bill."
The FCC's current mandate could distribute funding over a period as long as 10 years, "though winning bidders would have to serve most locations within five years." The Congressional Research Service published a May 26 memo that the FCC "likely wouldn't need to seek public comment on new rules for the auction to implement the bill."
The Wireless Internet Service Providers Association and USTelecom are among those industry groups "opposing the lawmakers' proposal as favoring electric cooperatives over other companies competing for federal support." USTelecom president and CEO Jonathan Spalter wrote that, "the legislation circumvents the October auction to the benefit of a select group of bidders by changing the rules late in the game after a transparent FCC process establishing auction rules."
Multichannel News reports that the 39 state attorneys general want "Congress to boost broadband funding … [but] they don't want it counting against their states' ability to qualify for other funding." They stated that the failure of Congress "to provide billions in subsidies in the next COVID-19 aid bill would leave millions struggling to catch up with the rest of the country." They also laud "the voluntary efforts by ISPs to keep and boost connectivity during the pandemic … but they said such efforts are not sustainable over the long haul."
The AGs "want money to go to state and local governments for universal broadband, particularly for seniors currently with inadequate tech … [and] they want flexibility in what they spend the money on." Funding should "remain available in the long-term since long-term solutions are needed." They also want an increase in the FCC's Universal Service Fund subsidies for "schools and libraries, low income residents, and rural healthcare programs."
The recently passed CARES Act coronavirus relief bill did allocate "some new broadband spending … mostly focused on telemedicine," but not remote learning.