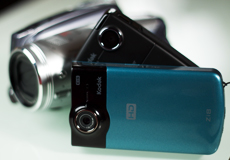 Highlight Hunter is a free app for Macs and PCs that takes your unedited video and creates highlight clips ready for downloading into your favorite editing program.
The app requires you to cover the lens after you shoot footage you want highlighted. The app automatically looks for those clips and includes the preceding 30 seconds. The company claims it can reportedly reduce editing time an average of 80 percent.
A later version will enable the software to scan, edit, upload to the cloud and make clips available on YouTube.
"Highlight Hunter is free to use, and unlimited, but the free version applies a small watermark to videos," reports TechCrunch. "Users can switch to a $29/year premium version, which removes the watermark, supports faster scanning speeds, priority support, among other things."
The article also mentions HighlightCam, which has facial recognition and other software that can create mini-movies.