Google Maps has returned to iOS, and carries over the redesigned look of Gmail and other Google apps on iOS, writes Engadget. Google Maps for iOS looks mostly like its Android counterpart, but includes a few new features, "such as swiping upwards to expand directions and location details" and "tucking the layer toggles into a menu pulled out from the right," notes the post.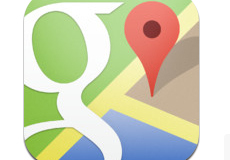 A major upgrade for iOS users over Apple's native maps application is the inclusion of mass transit directions. The new Google Maps also includes Street View and turn-by-turn directions.
Despite some positive elements, Google Maps for iOS currently lacks iPad optimization. Also, the layers "are limited largely to satellite and traffic data, without extras like bicycling or terrain."
"You can't quickly browse through local attractions without starting a search, or cache maps for offline use," explains Engadget. "Turn-by-turn navigation doesn't provide a night mode, customizable map layers or manually specified rerouting."
The post concludes that Google Maps for iOS is worth a download, but lacks some of the "niceties" present in Nokia Here and Apple's native maps application.