Will this actually be the year during which mobile payments take off? "Both Gartner and Forrester have made strong predictions of mobile growth, with Forrester recently saying that the U.S. mobile payments market will hit $90 billion by 2017, a 48 percent compound annual growth rate from the $12.8 billion spent in 2012," reports ReadWrite. The article highlights four indicators that suggest this might really happen.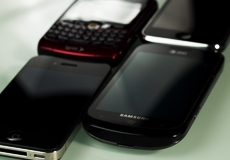 1. "A survey of 200 mobile industry executives, developers and insiders conducted by Chetan Sharma Consulting voted mobile payments the top mobile applications and services category for 2013," explains ReadWrite. "The survey said mobile payments and commerce will get big in 2013, with Visa, the banks and more established online payment companies like PayPal well positioned to cause disruption in the mobile payments space."
2. Visa Europe claims that in 2013, there will be "40 issuers offering mobile contactless payment services to consumers, and by the end of 2013 around 80 types of smartphones will be certified to carry out contactless payments."
3. In a study from Shop.org and Forrester Research, it found that "mobile payments will be essential if retailers wish to remain competitive," noting that "51 percent of the participating retailers said that their top priority in 2013 had to do with optimization, including mobile payments."
4. Lastly, the article makes mention of how China, a huge economy, is setting up to embrace a cashless society "as it taps a boom in e-commerce and electronic payments, with mobile payments likely to soar 52.7 percent annually in 2013. Mobile payments are likely to expand to $17 billion in 2013."
But what will it take for these predictions to reach fruition? According to the article, it will require "coordination and orchestration both within a single channel (i.e. Mobile) as well as across multiple channels (email, SMS, Push, Passbook, mobile ads) to create a positive experience for the recipient and a sale for the retailer," in addition to real-time, automated management.