The Nitehawk Cinema in Brooklyn is not your average movie theater. The venue has become part of a growing trend of "Dine-In" theaters emerging in different parts of the country. Serving movie-themed specials such as "Django Unchained Dynamite Shrimp and Grits," these theaters have created a special combination of entertainment and food services as a viable means of survival in a consolidating industry.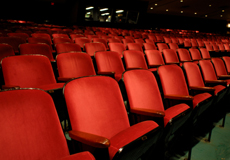 The Nitehawk, which touts two lobbies with full bars and microbrew beers, is not the only theater to adopt the idea of dinner and a movie. The Alamo Drafthouse created a chain of successful "eat-in-your-seat" movie theaters in Austin, Texas. The company plans to launch seven more locations during 2013, making 18 in total since 1997.
"AMC Theaters, the nation's second-biggest chain, has dipped in with 11 meal-and-movie multiplexes, most recently in Los Angeles and near St. Louis," reports the Wall Street Journal.
Staffing the kitchen and servers can be more like a restaurant business model than traditional cinema, but there can be a payoff. "Most traditional theaters, their per-head expenditure on concessions is anywhere from $3 to $6. With us, it's over $18," explains Fred Schoenfeld, who restored the Art Deco Commodore Theatre in Virginia in the late 1980s. "We can keep our overhead low and our profits can be high," he says. The Commodore's menu includes sandwiches, salads and fish-and-chips.
The standard setup for these venues involves rows of two-seat tables. Once customers are in their seats, waiters and waitresses take orders before the previews and deliver food during the first few scenes of the film. The patrons are typically served meals on ceramic dishes to minimize disruptive noise.
"The Nitehawk served a fried-oyster po'boy with 'Beasts of the Southern Wild' and a 'Girl on Fire' cocktail (jalapeño-grapefruit margarita) with 'The Hunger Games,'" notes WSJ. "Alamo Drafthouse showed the 'Lord of the Rings' trilogy with nine meals, 'one at every hobbit eating time.'"