During a presentation at last week's GigaOM Structure:Data conference in New York, Ira "Gus" Hunt, the CIA's chief technology officer, detailed the Agency's vision for collecting and analyzing information people put on the Internet. The presentation came just two days after it was reported that the CIA is about to sign a cloud computing contract with Amazon worth up to $600 million over 10 years.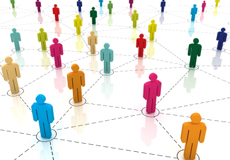 The contract "involves Amazon Web Services helping the CIA build a 'private cloud' filled with technologies like big data," reports Business Insider. Hunt detailed how the agency plans to acquire, store, and analyze digital data on a massive scale.
"You're already a walking sensor platform," he said, referring to all of the information captured by smartphones. "You are aware of the fact that somebody can know where you are at all times because you carry a mobile device, even if that mobile device is turned off. You know this, I hope? Yes? Well, you should."
Based on sensors in a smartphone, Hunt said, someone can be identified (with 100 percent accuracy) by the way they walk, "implying that someone could be identified even when carrying someone else's phone," explains Business Insider.
"The challenge for the CIA is to find the relevance in the ocean of information when something happens. The first step is for 'data scientists' to save and analyze all digital breadcrumbs — even the ones people don't know they are creating," notes the article.
"Since you can't connect dots you don't have, it drives us into a mode of, we fundamentally try to collect everything and hang on to it forever. It is really very nearly within our grasp to be able to compute on all human generated information," Hunt said.
Visit the article link to see the presentation's slides.