China's Ministry of Industry and Information Technology will invest at least $1.4 trillion in the next five years in advanced technologies; more than a dozen Chinese municipalities this year pledged 6.61 trillion yuan ($935 billion) to achieve this goal, for projects on artificial intelligence, data centers and mobile communications. The country's BeiDou navigation network will be complete this month when the final satellite goes into orbit. Premier Li Keqiang said the campaign is the Communist Party's top priority.
The Wall Street Journal reports that Keqiang said the campaign will provide a "new-style infrastructure … a subtle shift from months earlier, when Chinese leaders played down their previous industrial policy, known as Made in China 2025." Mercator Institute for China Studies analyst Caroline Meinhardt noted that, "a key aspect of Made in China revolved around replacing foreign tech components with local products … [and] that goal hasn't changed, even though the new plan doesn't explicitly call for a similar push."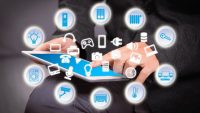 This latest plan "focuses on upgrading technology throughout the Chinese economy and relies mostly on investment from the private sector and local governments instead of national government spending," although the national government will "provide policy support" and Li pledged 600 billion yuan and issuance of 3.75 trillion yuan in bonds.
Municipalities that have invested include Beijing, which will build 13,000 5G stations by the end of 2020, and Guangzhou, which will "increase spending to 500 billion yuan, up from 180 billion yuan announced previously." Shanghai plans to spend 270 billion yuan on AI, IoT and "other advanced technologies." Investing companies include Tencent, with 500 billion yuan on cloud computing and cybersecurity, and rival Alibaba, with 200 yuan in "similar outlays."
Building out 5G networks is one focus, due to its ability to unleash the Internet of Things and "revolutionize daily life and manufacturing alike." Xinhua News Agency reported that China "hopes to more than triple the number of 5G base stations to 600,000 by the end of the year," and China's three telecom carriers "promised to invest about 220 billion yuan to build 5G base stations."
The projects will favor Chinese companies, meaning "foreign companies are unlikely to see much of a windfall from the campaign." European Union Chamber of Commerce in China said that, "such an unfair playing field may exacerbate the current trend of global decoupling of supply chains and increase protectionism."
Reuters reports that China's new BeiDou (Big Dipper in Chinese) navigation network will give that country "greater independence" from U.S.-owned, U.S. Air Force-run GPS. The first BeiDou satellites were launched in 2000, covering only China. In 2003, China "tried to join the Galileo satellite navigation project proposed by the European Union but later pulled out to focus on BeiDou."
Second-generation BeiDou satellites "went operational in 2012, covering the Asia-Pacific, and, in 2015, "China began deploying the third generation of satellites aimed at global coverage." This month, China will launch the 35th and final BeiDou-3 satellite, which puts it ahead of GPS's 31 "and more than Galileo and Russia's GLONASS." As of 2019, 70 percent of mobile phones in China were enabled by BeiDou.
Related:
China Reports Progress in Ultra-Secure Satellite Transmission, The New York Times, 6/15/20
U.S. Commerce Dept. Amends Huawei Ban to Allow for Development of 5G Standards, TechCrunch, 6/15/20
Engineers Found Guilty of Stealing Micron Secrets for China, Bloomberg, 6/12/20
Topics:
5G
,
Alibaba
,
Artificial Intelligence
,
Beijing
,
Caroline Meinhardt
,
China
,
Chinese Communist Party
,
Cloud
,
Cybersecurity
,
Data Centers
,
European Chamber
,
European Union
,
Galileo
,
GLONASS
,
GPS
,
Guangzhou
,
Internet of Things
,
IoT
,
Li Keqiang
,
Made In China 2025
,
MIIT
,
Satellites
,
Shanghai
,
Tencent
,
Xinhua News Agency