LED lighting firm Nanoleaf is debuting innovations at CES that include "learning smart light switches" under the banner Sense+ Controls. The devices span categories such as hardwired Smart Light Switch, Wireless Smart Light Switch and Nala Learning Bridge, all of which work with Matter, a global interoperability protocol designed to help smart homes run smoothly, running on the low-powered Thread mesh networking standard. The new Sense+ Controls products feature motion and ambient lighting sensors that automate routines. The Nala Learning Bridge facilitates color-differentiated, soft-glow night lights and connects via Thread to Wi-Fi or Ethernet.
"Products range from smart light bulbs and strips to a new automation learning assistant. Plus, a unique way to mirror the colors shown on your TV with Nanoleaf lights," writes ZDNet. But some say Nanoleaf's "real star of the show" is Nala, an intelligent assistant that learns preferences from a homeowner's use patterns.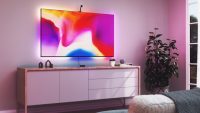 "Running on the Nala Learning Bridge or an existing Nanoleaf Thread Border Router (coming via a free firmware upgrade), Nala creates personalized automations and attempts to handle certain actions informed by its learnings, like turning off the lights, adjusting the brightness and color and choosing lighting scenes," TechCrunch explains.
"Combined with the vision of a hands-free smart home, we wanted to pair this with a smart lighting assistant that was user-friendly and relatable, which is when Nala was born," Nanoleaf CEO Gimmy Chu tells TechCrunch. As specified in the company announcement, Matter-compatible Nanoleaf technologies coming in Q3 include:
4D TV Screen Mirror Camera and Lightstrips Smarter Kit: Offering TV backlighting customization via four Screen Mirror modes and up to 50 addressable zones. As with AmbiVision and the like, "Nanoleaf 4D relies on an LED light strip and a camera to record what's happening on the display and 'extend' the picture by illuminating corresponding LEDs," says TechCrunch.
Sync+: Enables the TV Screen Mirror and synchronizes the suite of Nanoleaf lighting products, screen mirroring your favorite entertainment across an entire room ("so you feel like you've stepped right into the scene"). Dynamic lighting Scenes like "Aurora Borealis" and "Vibrant Sunrise" can be programmed.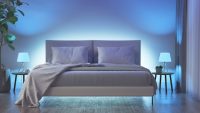 Nala Automation Learning Assistant: The Sense+ products work with the Nanoleaf intelligent Automation Learning Assistant (Nala), using machine learning to glean preferences from everyday usage and routines. "Your lights can finally 'think,' so you don't have to."
Sense+ Controls: Hands-free smart lighting spans hardwired Smart Light Switch, Wireless Smart Light Switch and Nala Learning Bridge — all with motion and ambient lighting sensors to personalize lighting throughout the home. The Nala Learning Bridge is also a Thread Border Router.
Skylight Smart Modular Flush-Mount Ceiling Fixture: Nanoleaf's modular wall light panels are already best sellers. This new modular fixture works with Matter to control ceiling light design. Via Wi-Fi, Skylight provides functional white light for everyday use and over 16 million dynamic colors for ambient lighting, with smart features to adjust brightness, colors, color temperatures, and set schedules.