While the latest new displays and the stunning new tablets and smartphones tend to get the bulk of the attention at CES, in the smaller booths, hidden in the nooks and crannies of the Las Vegas Convention Center, one can find a smattering of simpler, humbler tools that can make life a lot easier for people on working in physical production. Here, we look at some tools for shooting in the field that are all new at this year's CES, including lights, camera mounts, protective gear and storage options.
The first product that caught our attention was a new cordless portable light from Lowel called the GL-1. A tungsten-balanced LED light, the GL-1 runs on a Li-Ion battery pack, and has a form factor that closely resembles a cordless drill. Lowel wouldn't give exact intensity specifications, but it looks to be similar to brightness you'd expect from a traditional 100-watt source. It features a dimmer, a 1/4-20 screw tripod mount, and a threaded face to accept color filters. The light was designed for still photography, but would certainly be useful for film or video, especially when far from a power source. The light is expected to retail for around $700.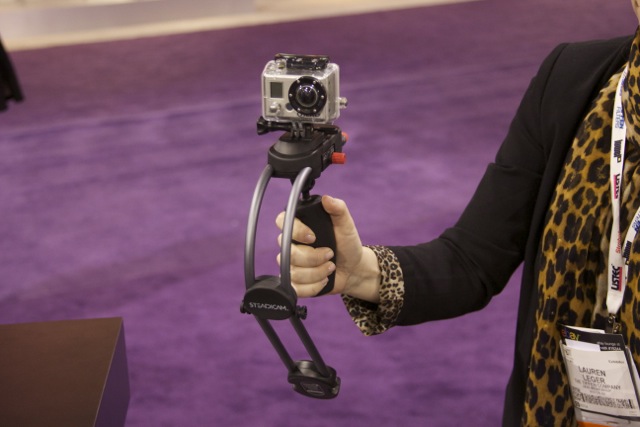 We also got a chance to play with Steadicam's latest gadget, the Steadicam Smoothee. Designed for today's smallest cameras, the mount features a pistol grip with a frictionless bearing connecting it to a counterweighted platform. The rig was fairly light, easy to use, and lent an impressive amount of stability to what would otherwise be a pretty shaky shot. The smoothie is on sale now for a retail price of $149.
Tablets and smartphones are becoming an increasingly important part of working on set, being used for everything from storyboards to viewing dailies, and Pelican was showing off a new line of products to keep them safe. Called the Vault Series, these new products aren't just cases, but shockproof and waterproof covers that flip open and allow you to use the device.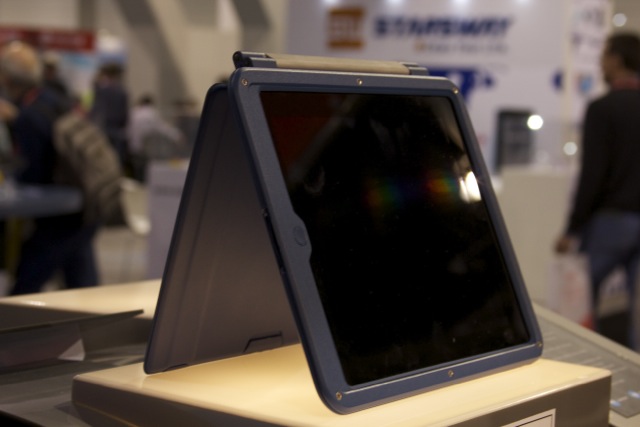 While hardly the only phone or tablet cases on the market, the Vault series feels extremely well-built, and the fact that they are made by one of the most trusted brands in gear protection probably won't hurt their sales. The cases are expected to ship beginning in mid-2013. Pelican was also showing off a new line of backpacks that have traditional pelican cases built in, which are sure to be a hit with those shooters who like to get way off the beaten path.
Perhaps the most useful production tool we saw at CES this year was a line of data encryption and storage tools from a company called Rocstor. As more and more productions go digital, the question of properly securing your data for the trip home becomes increasingly important, and Rocstor offers several products to meet the need. They were showing off a new line of encrypted hard drives, called the Amphibious X5 and the Amphibious X7, that require both a physical key and a numeric passcode before data can be written or read. The encryption is hardware based, which makes it nearly impossible to crack, and the drives are mounted in rugged aluminum housings to keep them safe. (Though, despite the name, they are NOT waterproof).
The drives are available in capacities up to 1TB, and range in price from $399 to $595. Rocstor was also showing a prototype of its newest product, the Crusader II encryption key. This device is a hardware-based encryption device that you plug into a PC, which encrypts your data on the fly as you upload it to the cloud. The data can then be stored using any commercial cloud storage service, and retrieved and decrypted only by someone who has the corresponding key. The Crusader II doesn't yet have a release date, but when it comes (and if it works as advertised) it may offer an inexpensive and secure option to use cloud storage for sharing footage.