Playsurface, a Massachusetts-based startup, has prototyped a handheld cylindrical viewer that senses its location on a tabletop computer and allows the user to see inside the object being displayed when a complementary Playsurface application is running.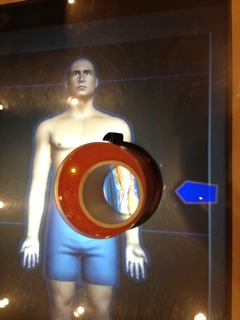 For example, when the image of a body is displayed, moving the window over the surface of the tablet allows you to see under the skin within the viewer. By turning a knob on the side of the cylinder, you dive into the object — passing progressively through layers of muscle, nerves, organs and bone.
Playsurface is operating under a Small Business Innovation Research Grant from the National Science Foundation. They are working with faculty at Tufts University to develop K-12 teaching materials. Target subjects for learning experiences that benefit from this type of exploration and inside-look experience include engineering, architecture, biology, chemistry and the earth sciences.
This technology could be easily ruggedized and developed for museum and theme park exhibits and activities, including edutainment and gaming applications.