Action sports camera manufacturer GoPro had a significantly larger presence at CES this year than they have had in the past, and they used that space to display their latest camera, the Hero3. Available in three different versions, the Hero3 is a significant upgrade from previous GoPro cameras, and offers a number of technical features that are clearly targeted at making it into a camera that is capable of delivering broadcast-quality footage.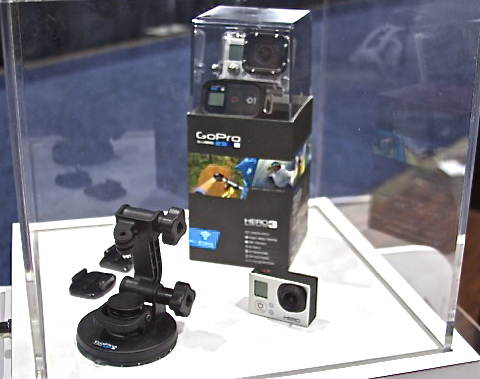 Since the introduction of its first miniaturized camera in 2008, GoPro has been a favorite of adventure sports consumers. Though the camera had no viewfinder, and only very basic two button controls, its compact size, rugged construction, and waterproof housing made it a top choice for dirt bikers, surfers, skiers, skydivers and scuba divers. The newest camera, the Hero3, keeps the same basic configuration as their earlier models, but gets a significant upgrade in terms of power, flexibility and connectivity.
The Hero3 comes in three versions, and the top of the line is the Black Edition. The camera boasts a 12-megapixel sensor, and can record full 1080p footage at 24, 30, or 60 fps. It is also capable of capturing still shots in bursts of up to 30 fps, and has settings for time-lapse and photo burst modes. In what is clearly a bid to make the camera a credible tool for cinema and television production, the Hero3 also features the ability to manually control white balance, and to record in a RAW format that yields a very flat image out of the camera, but offers the greatest possible latitude for color and exposure manipulation in post-production. The Hero3 also has onboard Wi-Fi, and the new GoPro App offers live preview, and control of still shooting and video recording from your tablet or smartphone.
The action sports market is robust, and appears to be growing, as there are more than a half-dozen manufacturers at CES this year showing off cameras that are similar to the GoPro in terms of size, form factor and functionality. Yet none of its competitors offer the range of recording options or the kind of advanced controls found on the Hero3, and at a retail price of $399 including a remote control and a waterproof housing, GoPro remains the clear leader in this segment, and far and away the best choice for broadcast-quality work.
GoPro from Entertainment Technology Center on Vimeo.