Broadcom announced it will acquire VMware in a cash-and-stock transaction that values VMware at $61 billion. The deal, which expands semiconductor supplier Broadcom into enterprise software, is among the top technology transactions of all time, right behind Microsoft's pending $69 billion purchase of Activision Blizzard and Dell's 2016 acquisition of EMC for $67 billion. Broadcom will also assume $8 billion of VMware debt. The news sent shares of Broadcom up 2 percent and VMware more than 1 percent early Thursday. VMware enterprise products optimize client-side servers as well as cloud servers.
When the deal closes, the Broadcom Software Group will rebrand and operate as VMware, incorporating Broadcom's existing infrastructure and security software solutions as part of an expanded VMware, Broadcom said in its announcement. VMware spun off from Dell in Q4 2021, in a move to pay down debt. Dell acquired the company as part of its 2016 EMC acquisition, and Dell CEO Michael Dell is chairman of its board.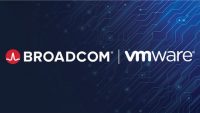 "Broadcom is known for its chip business, designing and manufacturing semiconductors for modems, Wi-Fi, and Bluetooth chips across multiple devices," writes The Verge, adding "the combination of VMware and Broadcom could be a powerful one, focused on enterprise infrastructure and cloud computing."
CNBC describes Broadcom as "the most acquisitive semiconductor company," having "strategically used mergers to fuel its growth in recent years." In 2018 Broadcom purchased CA Technologies for $18.9 billion and the following year bought Symantec for $10.7 billion. "Broadcom planned to purchase Qualcomm in 2018 for $117 billion before the deal was hampered by then-President Donald Trump, who cited national security concerns," CNBC reports.
Broadcom's Q2 results, also reported Thursday, beat estimates and included upbeat Q3 guidance at a time when many tech firms are doing their best to spin bad news. Broadcom grew revenue 23 percent to $8.1 billion, year-over-year. Refinitiv pegged Wall Street expectation at $7.9 billion.
The positive financials were "driven by strength in networking and server storage," Broadcom president and CEO Hock Tan said in an earnings press release, forecasting the momentum will "continue into the third quarter." As part of the earnings announcement, Broadcom shared an acquisition presentation that touts VMware's 5,000-plus patents.
The deal, which Broadcom says has been unanimously approved by the boards of directors of both companies, offers VMware shareholders either $142.50 in cash or 0.2520 shares of Broadcom common stock for each VMware share. Following shareholder and regulatory approvals, the transaction is expected to complete in Broadcom's fiscal year 2023. Terms include a "go-shop" period under which VMware and its board can solicit other offers for a 40-day period that expires July 5, 2022.
Topics:
Acquisitions
,
Activision Blizzard
,
Bluetooth
,
Broadcom
,
Broadcom Software Group
,
CA Technologies
,
Chips
,
Cloud
,
Dell
,
Donald Trump
,
EMC
,
Enterprise
,
Hock Tan
,
Mergers
,
Michael Dell
,
Microsoft
,
Modems
,
National Security
,
Qualcomm
,
Refinitiv
,
Semiconductors
,
Servers
,
Software
,
Symantec
,
VMware
,
Wall Street
,
Wi-Fi