"American Idol" has begun using Twitter as a platform through which to take instant audience polls. Using two possible hashtags per question, those in the audience can respond to network inquiries like: Do you agree with the judges tonight? Once the answers are submitted, Fox and partner FremantleMedia will update a graphic almost instantaneously as results come in, creating a live tug of war.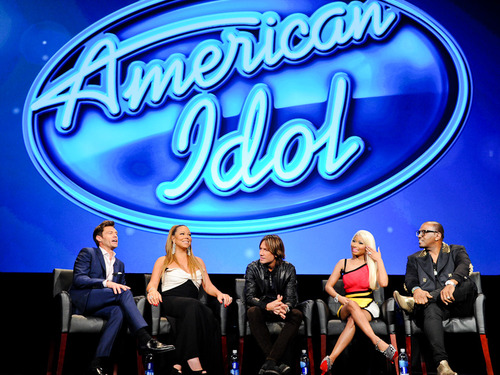 "For 'Idol,' which pioneered viewer participation more than a decade ago with toll-free phone numbers for voting on singers, the Twitter-powered 'fan meter' is another way to excite viewers — particularly those who watch live and who tend to be most valuable to Fox and its advertisers," reports The New York Times. This will also encourage those who record the show to watch it live, the network hopes.
This is an important step for "American Idol" as it tries to connect with a younger audience. Its current one is aging and Twitter has a very large contingent of under-50 users.
"Its viewers' median age so far this season is 45, down from 49 last year, but up from 32 its very first year. Most shows go through a similar aging process, but the producers want to do whatever they can to stem further losses among younger viewers," writes NYT.
And those younger viewers want to be engaged. "One of the things we've learned is that the audience loves to affect the show in some meaningful way," said Fred Graver, Twitter's head of television. In an email about the new 'Fan Meter,' Garver added: "The audience gets to not only choose the winner, but there are tons of side bets they can participate in via Twitter along the way that add dimension to the entire experience."
The interactive experience will be augmented next week when the show introduces a new voting app. "Viewers are allowed to vote online 50 times," explains the article, noting "it will let a user divvy up those 50 votes in whatever way he or she wants, like a gambler at a roulette table."
Topics:
American Idol
,
App
,
Fan Meter
,
FOX
,
Fred Graver
,
Interactive
,
Live Show
,
Mobile
,
Phone
,
TV
,
Twitter