Users can listen to music through Amazon's new Echo speakers, but more importantly, this new device listens to users as well. Similar to Siri, users can ask the Echo speakers (which go by the name Alexa) about the weather, news, math problems, definitions, and anything else that can be looked up on Wikipedia. They can also set timers and make shopping lists. Someday those shopping lists may make it possible for Amazon to create an online ordering service through voice commands.
The Echo speaker is similar to many other speakers in its cylindrical shape and Bluetooth connectivity. However, the seven microphones on the top of the device and the ability to use voice commands to access information from the Internet set it apart from other speakers and even other hardware offerings.
Google and Apple have launched new Internet-connected products for the home, but none of them operate solely by voice commands.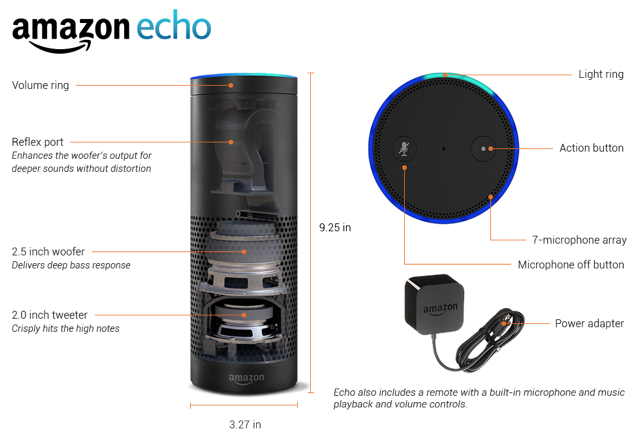 Echo's voice-commanded shopping lists could eventually become a way for Amazon to drive users back to the site to make even more purchases. Wired predicts that the future of Amazon is "no-click" shopping, in which people can order products directly through Amazon.
"It's also Amazon's most visible contribution yet to an accelerating push among tech giants towards an Internet that's controlled by voice," Wired reports.
Amazon's Dash device, which is offered to Amazon's grocery delivery service, already uses voice technology. The Echo may eventually do something similar. The $199 device is currently available by invitation. Prime members can purchase the device for only $99.
Topics:
Alexa
,
Amazon
,
Amazon Prime
,
Amazon Prime Fresh
,
Apple
,
Bluetooth
,
Digital Assistant
,
E-Commerce
,
Echo
,
Google
,
Internet
,
Internet of Things
,
Microphone
,
Music
,
Online
,
Ordering
,
Purchase
,
Retail
,
Shopping
,
Shopping Lists
,
Siri
,
Speakers
,
Voice
,
Voice Commands
,
Wikipedia