Companies including Amazon, Google and Walmart are quietly beginning drone deliveries across the U.S., according to reports. Everything from Advil to take-out meals are fair game for robot delivery to one's doorstep, with the various companies experimenting in the space completing between dozens and up to hundreds of deliveries a day. Walmart has begin working with San Francisco startup Zipline on deliveries in Arkansas. Israeli startup Flytrex, specializing in U.S. food delivery, opened a station in Texas following testing in North Carolina. Wing, a unit of Google-owner Alphabet, is delivering in Virginia.
"While still small-scale, the operations mean that in a handful of locations, regular people, not just specially authorized beta testers, now can try these services for themselves," reports The Wall Street Journal. But testing and implementing commercial drone delivery in the U.S. is a complex and often lengthy process that involves not only designing and building drones, but getting them certified by the Federal Aviation Administration, the same group that approves passenger aircraft.
"Advocates for drone delivery say the technology could reduce emissions, the cost per trip, and traffic on America's roads, while also making sub-half-hour delivery — some companies are claiming delivery in as little as 5 minutes — the new norm in the race toward e-commerce instant gratification," says WSJ, noting that "U.S. regulators worry about the things that could go wrong if the skies above America were darkened with swarms of delivery drones — such as drones crash-landing or, worse, colliding with passenger aircraft."
Which is why the biggest obstacle to wider adoption of drone delivery is regulatory. "No drone delivery company in America is currently yet fully certified to fly everywhere, without a human controlling or at least monitoring the aircraft," writes WSJ, noting that the FAA says it is developing regulations that would allow it to safely issue such authorization.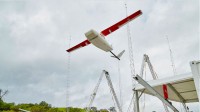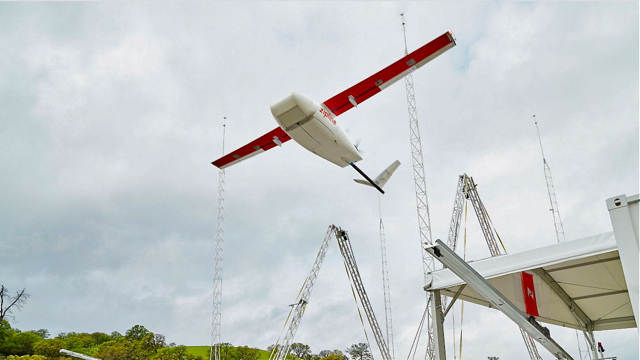 Meanwhile, the drone companies are logging miles overseas. Zipline has to its credit 20 million flight miles, spanning 275,000 deliveries consisting primarily of vaccines and medical supplies in Rwanda and Ghana. Late last year, Zipline built a launch platform onto a Walmart in Pea Ridge, Arkansas that the FAA is allowing to serve anywhere in a 50-mile radius.
The Zipline drones "can hit a target as small as two parking spaces," with a payload of up to 4 pounds, reports WSJ, which says the firm "operates 11-foot wide, fixed-wing drones that launch from a steel rail by an electric motor that accelerates the 44-pound aircraft to 60 miles an hour in one second. Flying autonomously, the drones drop orders at their assigned addresses in cardboard boxes suspended beneath paper parachutes."
Topics:
Aircraft
,
Alphabet
,
Amazon
,
Arkansas
,
Autonomous Drones
,
Delivery
,
Drone
,
E-Commerce
,
FAA
,
Federal Aviation Administration
,
Flytrex
,
Food Delivery
,
Ghana
,
Google
,
Groceries
,
Instant Gratification
,
North Carolina
,
Planes
,
Regulation
,
Retail
,
Robotics
,
Rwanda
,
Safety
,
Texas
,
UAV
,
Walmart
,
Wing
,
Zipline