In a big win for the United States, the Department of Energy's Frontier supercomputer at the Oak Ridge National Laboratory (ORNL) in Tennessee was ranked No. 1 in the Top500 worldwide performance contest and the first to top the quintillion operations-per-second (exascale) benchmark in a LINPACK test. The Department of Energy has said it will spend a total of $1.8 billion to build three machines with exascale performance. The Frontier, or OLCF-5, supercomputer (which features a theoretical peak performance of 2 exaflops) was built by Hewlett Packard Enterprise and is powered by AMD chips.
"Frontier, a HPE Cray EX supercomputer, also claimed the number one spot on the Green500 list, which rates energy use and efficiency by commercially available supercomputing systems, with 62.68 gigaflops performance per watt," according to ORNL. Frontier consists of "74 HPE Cray EX supercomputer cabinets, which include more than 9,400 AMD-powered nodes and 90 miles of networking cables."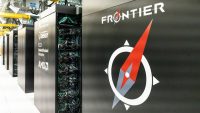 Based in Germany, the Top500 list administrators have been identifying the 500 fastest computer systems in the world since 1993, updating the lineup every six months.
"The field was dominated by U.S. technology for decades, but China has become a dominant force," says The New York Times, reporting that there are rumblings that China withheld its top wares this go-round due to "tensions with the West and may be winding up for a knockout. "Some experts believe that Frontier has been beaten in the exascale race by two systems in China," NYT writes.
"Chinese researchers used to participate in the ranking process. But the country has adopted a lower profile in promoting its supercomputer progress as the United States has taken a series of steps to slow China's technology advances — including by making it harder for some Chinese companies to acquire the foreign chips that can be used to make supercomputers," NYT reports.
Asian tech expert David Kahaner "reported details last year of two exascale-class supercomputers that he said use Chinese chip technology. One is a Sunway machine called OceanLight."
Further evidence spilled about China's exascale capabilities in November, when Chinese researchers won the prestigious Gordon Bell Prize from the Association for Computing Machinery for a new Sunway system able to simulate quantum computing running at exascale speeds. "The calculating job, estimated to take 10,000 years on Oak Ridge's fastest prior supercomputer, took 304 seconds on the Chinese system, the researchers reported in a technical paper," NYT writes.
Japan has also been a contender, grabbing top honors in the summer of 2020 and hanging on till now with its Fugaku system, co-developed with Fujitsu at the Riken Center for Computational Science in Kobe, according to Top500. Prior to that, an Oak Ridge computer created by IBM was number one.
Topics:
ACM
,
AMD
,
Asia
,
China
,
Chip
,
David Kahaner
,
Department of Energy
,
Exascale
,
Frontier
,
Fugaku
,
Fujitsu
,
Germany
,
Gordon Bell Prize
,
Green500
,
Hewlett Packard Enterprise
,
HPE Cray
,
IBM
,
Japan
,
LINPACK
,
Oak Ridge National Laboratory
,
OceanLight
,
Quantum Computing
,
R-CCS
,
Sunway
,
Supercomputer
,
Taiwan
,
Tennessee
,
Top500